Front View Of Home
Wanda Bostick Little Picture
This was an incredible project. The house had been occupied by four generations of the Carimi family dating back to 1895. The last living heir, Jennie Carimi, lived in the home until her passing. The estate had many areas that had been untouched for decades. We even found items wrapped in newspapers that were dated in 1904.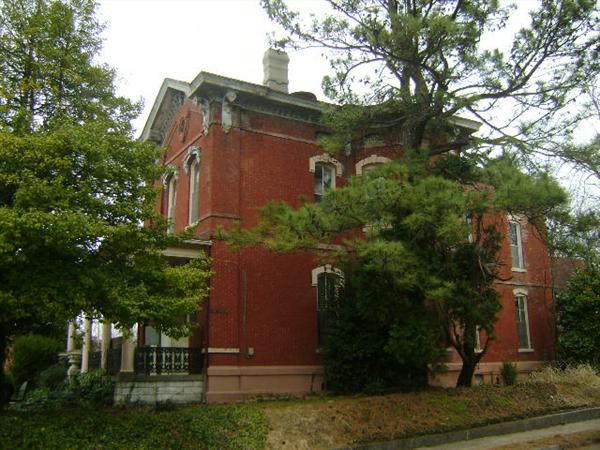 Side View Of Home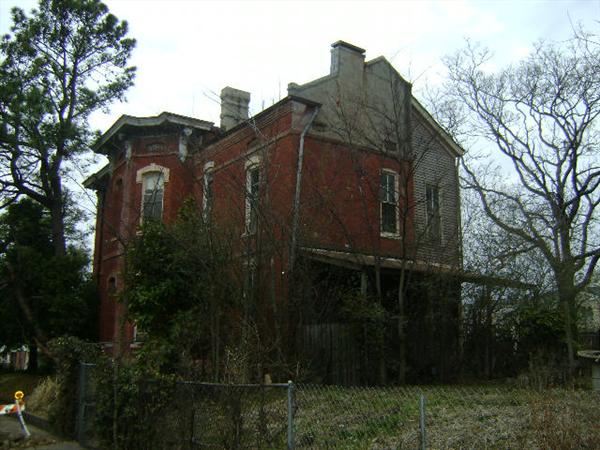 Rearview of Home on Vance at Ponotoc.
Items included in this the Estate Sale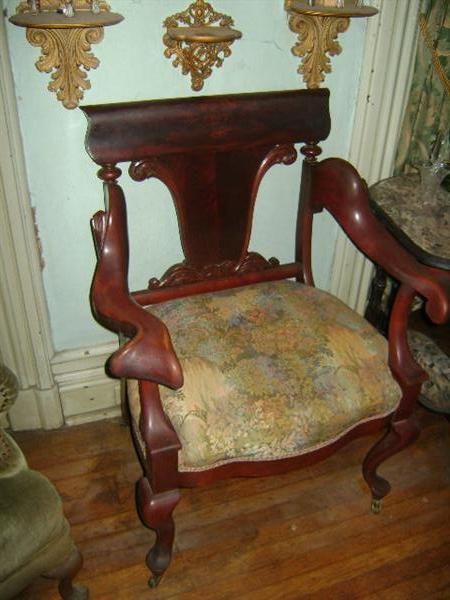 Early 1900's large bronze lamp titled "L'Inspiration" by Par Hip Moreau
Early 1900's large bronze lamp titled "Confidence" (pair of cherubs with beaded shades)
Civil War prison art stoneware smoking pipe hand carved by William Grent; documentation from Ancestry.com included
Bronze warrior with bow & arrow on horse lamp with a 'made in Paris' medallion on the back
William & Mary or Jacobean reproduction tiger oak dining room set, which includes dining room table & 6 chairs, long buffet, server, and chest.
William & Mary or Jacobean reproduction tiger oak master bedroom set, which includes queen bed, vanity dresser & stool, chest, and night stand
Stunning Cavalier bedroom set including a pair of twin beds, a night stand, a wardrobe/secretary (or chifferobe), and a beautiful vanity dresser with the original stool. We believe the wood is cherry, but it may be mahogany; hard to tell.
Late 1800's solid brass queen bed
1927 Victrola, mahogany cabinet, pristine condition
Pair of mint condition Roseville Jardineres with pedastals. Also, several other Roseville pieces
Early 1900 etegere
Shirley Temple cowgirl doll in original outfit and original box as well as a nice selection of rare dolls not yet researched
Gulbransen player piano with dozens of rolls
Victorian ornate curio with 3 felt lined shelves
Many bronzes and pot metal statues including pair of 36″ bronze urns with handles, Don Juan & Don Caesar pot metal statues, early 1900's original Humphress indian on horse bronze , pair of bronze smelter Queen Victoria & Prince Albert , Rome & Juliet plus more
Lots of cast iron including an awesome salesman sample German Triumph cast iron stove with pieces, large (& heavy), ornate Moore Brothers barnstable cast iron stove from late 1800s, Acme cast iron stove with assessories, dated 1908 Wagner waffle iron, Universal toaster, skillets, and much more
Several awesome clocks including a Gustav Becker mantel clock, an Ingraham large oak regulator clock, an Ansonia mantel clock, a large Dr Peper lighted advertising clock (works fine) and more
Empire furniture
Early 1900s barley twist end table with cast iron ball/claw feet as well as other great end tables including a lion's face end table and others
Original Crosley television & original stand
Exquisite set of early 1900's umbrellas
John Holland Fountain Pens early 1900's display cabinet
Hand sculptured marble bust of Medieval woman signed by Mignon, mint condition
Victorian settee & matching chair set
1875 Singer sewing machine & desk
Late 1800s corn masher with burned Memphis company inscription
Antique working GE refrigerator made in 1940's
Lots of cut glass, crystal, porcelain everywhere throughout the estate; the pictures only give a glimpse of what all is here
Many awesome antique rugs
1950s RCA Victor porcelain sign
Lots of silk tapestries….some of the best I've seen; some were found stored in the large cedar chest in brand new, folded condition; some made in Belgium, France & Italy; some large, some framed, the best quality!
1920's-30's Pennant Cracker tin
Several vintage Bakelite radios throughout the estate
Other awesome lamps
Vintage linens and ladies' clothes
Breath-taking Navajo Indian blankets
Gorgeous peer mirror & matching table
Lots of other great furniture including cedar armories, pair of victorian twin beds (with original brass box springs), chests, chifferobe, etc etc etc
Yes, some military items including some medals, uniforms, etc
100's of vintage records
Nice selection of books
Kitchen packed full of incredible china, glass ware, etc including Staffordshire turkey platter & set of plates, and so much more
Some fabulous concrete outdoor items as well as some patio furniture.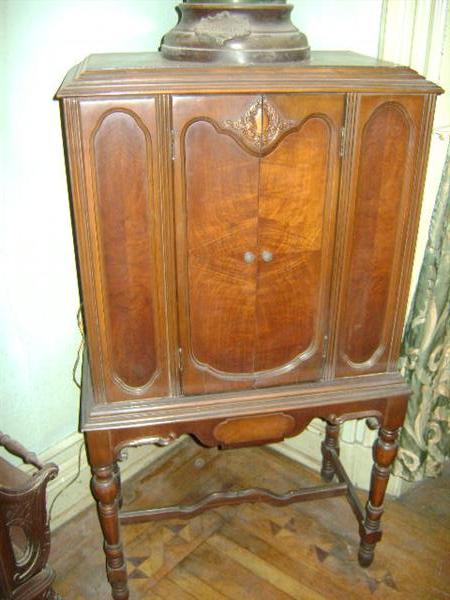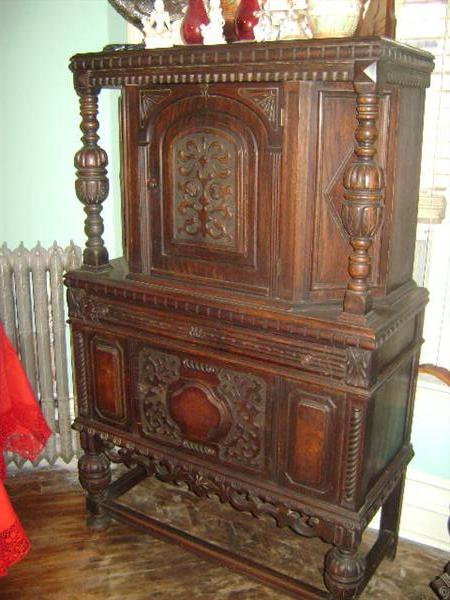 Click Here
to link for more pictures from this sale.
About
Jerry Copeland
I'm Jerry Copeland, owner of Copeland Estate Sales. I have over a decade of experience managing estate sales in the Mid-South. Please contact me through our
Contact Us Page
or call me at
(901) 210-6532
to talk about how I can help you.
Should you want to have an Estate Sale Contact Mr. Jerry Copeland at the number above.