Welcome to Starkville, Mississippi, home of Mississippi State University. The Starkville community offers a unique blend of old Southern charm and 21st century technology. Our growing economy is supported by a strong base of manufacturing and small businesses, as well as state-of-the-art research and technology companies. Starkville's assorted citizenry boasts not only native southerners, but "new southerners" from across the nation, university students, and a diverse international population. As a Mississippi Certified Retirement Community, Starkville also attracts many retirees searching for a balance of small town security and big city opportunity.
Cotton District
Nickname(s)
:
Starkvegas
We invite you to browse our website and learn more about Starkville's lifestyle, business and government. Feel free to contact us with any questions, and we hope to see you soon in Starkville, Mississippi!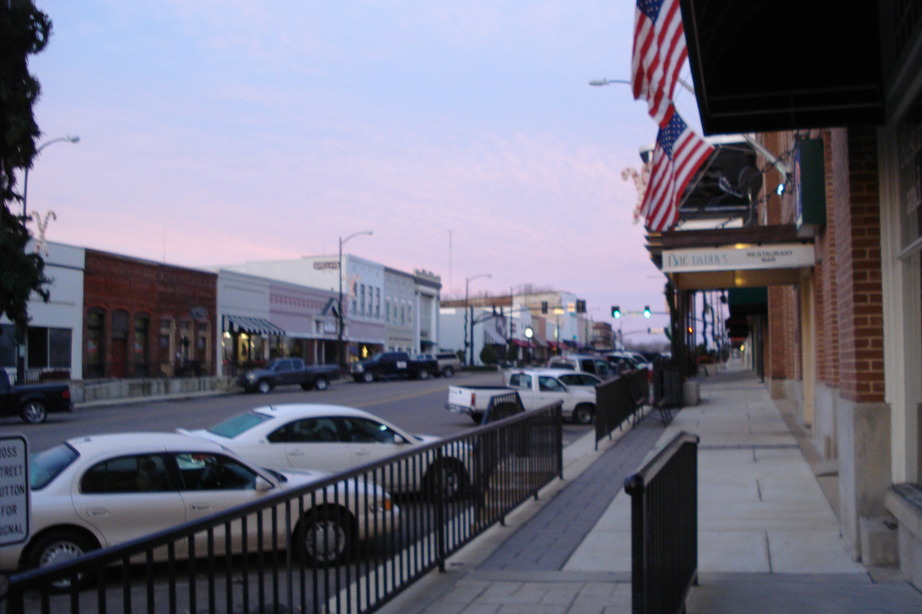 Starkville is a city in Oktibbeha County, Mississippi, United States. As of 2008, the city population was 24,000. It is the county seat of Oktibbeha County.
TVA Map
The campus of Mississippi State University is located adjacent to the east of Starkville. As of the fall of 2008, MSU is the state of Mississippi's largest university with 17,824 undergraduates, more than 4,000 graduate students, and more than 1,300 staff. The university is also the largest employer of Starkville and dominates the city's economy. Students have created a ready audience for the Magnolia Film Festival. Held every February, it is the oldest film festival in the state. Other major events held in Starkville and heavily supported by the MSU Student Body are the Dudy Gras Parade, Cotton District Arts Festival, Johnny Cash Flower Pickin' Festival, Old Main Music Festival, and Bulldog Bash.
History,
General John Stark
The Starkville area has been inhabited for over 2100 years. Artifacts in the form of clay pot fragments and artwork dating from that time period have been found east of Starkville at the Herman Mound and Village site, a National Historic Register site. The modern early settlement of the Starkville area was started after the Choctaw inhabitants of Oktibbeha County surrendered their claims to land in the area in the Treaty of Dancing Rabbit Creek in 1830. White settlers were drawn to the Starkville area because of two large springs. A mill southwest of town provided clapboards which gave the town its original name, Boardtown. In 1835, Boardtown was established as the county seat of Oktibbeha County and its name was changed to Starkville in honor of Revolutionary War hero General John Stark.
Mosholatubbee sought to be elected to the Congress of the United States. 1834, Smithsonian American Art Museum.
The preamble begins with,
" A treaty of perpetual, friendship, cession and limits, entered into by John H. Eaton and John Coffee, for and in behalf of the Government of the United States, and the Mingoes, Chiefs, Captains and Warriors of the Choctaw Nation, begun and held at Dancing Rabbit Creek, on the fifteenth of September, in the year eighteen hundred and thirty. WHEREAS the General Assembly of the State of Mississippi has extended the laws of said State to persons and property within the chartered limits of the same, and the President of the United States has said that he cannot protect the Choctaw people from the operation of these laws; Now therefore that the Choctaw may live under their own laws in peace with the United States and the State of Mississippi they have determined to sell their lands east of the Mississippi and have accordingly agreed to the following articles of treaty ... "
—-Treaty of Dancing Rabbit Creek, 1830
The Treaty of Dancing Rabbit Creek was a treaty signed on September 27, 1830 (and proclaimed on 24 February 1831) between the Choctaw (an American Indian tribe) and the United States Government. This was the first removal treaty carried into effect under the Indian Removal Act. The treaty ceded about 11 million acres (45,000 km²) of the Choctaw Nation (now Mississippi) in exchange for about 15 million acres (61,000 km²) in the Indian territory (now the state of Oklahoma). The principal Choctaw negotiators was Chief Greenwood LeFlore, Musholatubbee, and Nittucachee; U.S. negotiators were Colonel John Coffee and Secretary of War John Eaton. Site of the signing of this treaty is located in the south west corner of Noxubee County, Mississippi in the United States; the site was known to the Choctaws as Chukfi Ahihla Bogue (Dancing Rabbit Creek). The Treaty of Dancing Rabbit Creek was the last major land secession treaty the Choctaws signed.
On March 21, 2006, Starkville became the first city in Mississippi to adopt a smoking ban for indoor public places, including restaurants and bars. This ordinance went into effect on May 20, 2006.
US Highway 82 and Mississippi Highways 12 and 25 are major roads through Starkville. The nearest airport with scheduled service is Golden Triangle Regional Airport (GTR). George M. Bryan Field (KSTF) serves as Starkville's general aviation airport. There are multiple privately owned airstrips in the area.
As of the 2000 census, there were 21,869 people, 9,462 households, and 4,721 families residing in the city. The population density was 851.4 people per square mile (328.7/km²). There were 10,191 housing units at an average density of 396.7/sq mi (153.2/km²). The racial makeup of the city was 64.60% White, 30.02% African American, 0.15% Native American, 3.75% Asian, 0.04% Pacific Islander, 0.64% from other races, and 0.80% from two or more races. Hispanic or Latino of any race were 1.34% of the population.
There were 9,462 households out of which 24.1% had children under the age of 18 living with them, 34.1% were married couples living together, 13.0% had a female householder with no husband present, and 50.1% were non-families. 32.1% of all households were made up of individuals and 6.3% had someone living alone who was 65 years of age or older. The average household size was 2.24 and the average family size was 2.92.
The age distribution, which is strongly influenced by the presence of more than 16,000 students of Mississippi State University, is: 20.0% under the age of 18, 29.7% from 18 to 24, 26.6% from 25 to 44, 15.2% from 45 to 64, and 8.6% who were 65 years of age or older. The median age was 25 years. For every 100 females there were 102.0 males. For every 100 females age 18 and over, there were 101.5 males.
The median income for a household in the city was $22,590, and the median income for a family was $39,557. Males had a median income of $35,782 versus $21,711 for females. The per capita income for the city was $16,272. About 18.1% of families and 31.1% of the population were below the poverty line, including 28.3% of those under age 18 and 16.8% of those age 65 or over. These median income figures are significantly skewed due to a significant number of people on government assistance.
Campus 1893
The Greater Starkville area boasts one of the state's highest educational attainment levels with an estimated 22.2 percent of the population over the age of 25 having earned at least a Bachelor's Degree and 24.5 percent having earned a Master's, Professional, or Doctorate Degree. Compared to the state's educational attainment level of 20.7 (urban) and 14.1 (rural) percent of the population over the age of 25 having earned at least a Bachelor's Degree, Starkville is clearly above the Mississippi average.
Montgomery Hall is one of twenty-two sites in Starkville listed on the National Register of Historic Places
Oktibbeha County's current unemployment rate of 5.5 percent is nearly half a percentage below the state average of over 5.9 percent, and well-below the surrounding area's 8.2 percent. The surrounding area includes Choctaw, Clay, Lowndes, Noxubee, Webster and Winston Counties. Those statistics show that the county, more specifically Starkville, has a sturdy infrastructure and a high quality of life. Oktibbeha County has consistently held the lowest unemployment rate compared to the six surrounding counties, and is ranked in the state's top 20 counties for the lowest unemployment.
According to the Mississippi Development Authority, 1,840 jobs have been created in the Greater Starkville are since 2001, with 58 firms investing more than $321 million. This amounts to a 211 percent increase in jobs created and a 220 percent increase in Capital Investment, as compared to 2001.
Almost 37 percent of the total population falls within the desirable workforce age range (25 to 49), which is an estimated 8,200 individuals.
Popular culture,
Charles Lindbergh
Famous American pilot Charles Lindbergh made a successful landing on the outskirts of Starkville in 1927 during his famous Guggenheim Tour and stayed at a boarding house in the Maben community. Lindbergh later wrote about that landing in his autobiographical account of his barnstorming days, titled "WE."
Starkville is purportedly the birthplace of Tee Ball, invented by Dr. Clyde Muse, a member of the Starkville Rotarians in 1961. Dr. Muse was also an educator in Starkville, having been Principal of Starkville High School for many years. He also was a renowned baseball and basketball coach (one of his early teams won a State Championship. Members included Lewis Mallory, Jackie Wofford, Barry Wood, and Carse Smith.) The town itself is considered to be the Baseball Capital of the South, having been the birthplace of National Baseball Hall of Famer Cool Papa Bell and Mississippi State University, whose Diamond Dogs have made nine trips to the NCAA Baseball College World Series in Omaha, Nebraska.
Tee Ball or T-Ball is a sport based on baseball and is intended as an introduction for young players to develop baseball skills and have fun. The name Tee Ball is a registered trademark while T-Ball is the generic name, although many sources use Tee Ball as a generic name.
In T-Ball, there is usually no pitcher; except perhaps for defensive purposes. The ball is placed on an adjustable tee atop the home plate at a suitable height for the batter to strike. (In some clubs, adult coaches give the batter an opportunity to try and hit a few pitched balls before going to the tee in the hope that this will further develop batting skills.) Most of the other rules are similar or identical to those of baseball, though the game is played on a smaller field.
In many organizations, score is not kept and rules are designed to maximize participation: an inning is completed once each child has had a turn at bat and all extra players of the defensive team play in the outfield every inning. To encourage the defensive team to try to make plays, there are typically no extra bases on overthrows and runners may not advance after the ball is in possession of an infielder.
T-Ball allows male and female players too young to participate in baseball to enjoy a game posing many of the same challenges, and to develop skills that will later be useful in playing baseball. It has become an important part of many baseball clubs, particularly in countries where there is no strong tradition of a sporting draft and where it is therefore more important for clubs to develop junior players.
Notorious American gangster Machine Gun Kelly lived in Starkville for two years when he attended Mississippi State University. He enrolled in the university to study agriculture in 1917. From the beginning, Kelly was considered a poor student, having been awarded his highest grade (a C+) for good physical hygiene. He was constantly in trouble with the faculty and spent much of his academic career attempting to work off the demerits he had earned.
Johnny Cash was arrested for public drunkenness (though he described it as being picked up for picking flowers) in Starkville and held overnight at the city jail on May 11, 1965, which was the inspiration for his song "Starkville City Jail": "They're bound to get you, Cause they got a curfew,
And you go to the Starkville city jail."
The song appears on the album At San Quentin. Local oral tradition has it that he finished a gig at what is now the Dave's Darkhorse Tavern. and then walked a block west to the northwest corner of Lee Boulevard (now MLK, Jr. Blvd.) and Montgomery Street, where he helped himself to the flower bed at the front of the house.
Dave's Darkhorse Tavern
It was on the last cast of a windy, rainy day that Dave caught the fish that would change his life. This was not his first fish, and didn't feel particularly special as he reeled it in. The fish was, in fact, a little on the lazy side as these things go. She hardly fought at all as she came towards the boat, and when she was alongside, she rolled her eyes up, looked at the people looking at her and gently floated in the water.
She was a fine fish. She had three inches of dark green and brown algae streaming from her gills. There were barnacles attached to her belly, and, best of all, there was a collection of hooks and lures, some still shiny and some grown into the slimy skin around her mouth like jewelry. I can't say that it wasn't a bit eerie to see Dave peering in the rain at what might have been the oldest fish in the world, but that is what everyone on the boat saw. It seemed the fish was telling a story and it was only telling it to him. Dave began to work the lures out of her mouth, and, as he freed each one, he named it and threw it on the deck. As he got to the deeper ones he got more excited until he took out the last crude wooden plug and slipped it into his pocket. Believe it or not, a fish can show relief, and this one looked like she might slip into a pleasant deep sleep as Dave took that final hook out. Her eyes rolled back in her head as he lifted the fish over the side to put her in the water. Dave said something I could not hear over the wind. I only know that just as he let the fish go, before she splashed into the sea, she spit a corked bottle onto the deck. The bottle hit the floor of the boat and broke open. There was a script burned onto a piece of leather which Dave picked up and read to us in the rain.
Cooperative Creamery Station in Starkville, 1939
"A man on a sinking ship knows what's important. It is not his name and it is not his life. It is the memory of the fun he has had. He remembers, if he is lonely, his friends. And he remembers if he is hungry, the taste of good food. And he may recall with some detail, if he is thirsty, good draught. For me, I am all three: lonely, hungry, and thirsty, but I am also lucky. Though water is pouring through a hole in my ship, I am not here. I am at home, in a tavern with friends, food, and beer." - by Patrick Pittman
From November 2 to November 4, 2007 the Johnny Cash Flower Pickin' Festival was held in Starkville, the city where Cash had been arrested over 40 years earlier. The festival, where he was offered a symbolic posthumous pardon, honored Cash's life and music, and is expected to become an annual event. The festival was started by Robbie Ward,who urged the town to hold it annually based on the premise that: "Johnny Cash was arrested in seven places, but he only wrote a song about one of those places."
Johnny Cash Flower Pickin' Festival
Dedication of Room 22 at University Motel at 2 p.m. Friday, Walking Tour
October 16th, 2008.
Owners of the University Motel, 104 Martin Luther King Jr. Drive, will dedicate Room 22 at 2 p.m. on Friday, remembering the room Cash preferred to spend the night on May 10, 1965.
Come out for the dedication, which begins the Walking the Line with Johnny Cash Walking Tour. After leaving the University Motel, we'll visit the Copeland property, where Cash picked those infamous flowers, and then visit the Starkville City Jail.
Across from the University Motel, an oversized JumboTron, will show Johnny Cash videos.
Afterwards, we'll see you at Rick's Cafe for an entertaining evening.
Thanks to all those who attended, the many volunteers who made it happen, and all the supporters of the Johnny Cash Flower Pickin' Festival.
We made a lot of great new friends this year, saw some rowdy foot-stompin' performances, and some spirit-raising moments of redemption. A symbolic pardon was issued by Starvkille city, county, and law enforcement officials to Rosanne Cash and Marshall Grant in honor of Johnny Cash's "incredible contributions to humanity during his lifetime of achievements."
The pardon expires in one year and you can bet that we will all be gathered here in Starkville to do it all over again. Until then, in the words of Billy Joe Shaver, "Have fun. Be Careful."
A song entitled "Starkville" appears on the Indigo Girls' 2002 album Become You.
Starkville also appears on a map of Mississippi in the controversial 2007 film Borat: Cultural Learnings of America for Make Benefit Glorious Nation of Kazakhstan.
The Mississippi Horse Park in Starkville is a National Top 40 Rodeo Facility and is considered to be one of the top tourist attractions in North Mississippi.
"The Mississippi Horse Park's purpose is to provide unprecedented entertainment and service for exhibitors as well as spectators with the intentions of yielding goodwill for the Horse Park, Mississippi State University, Oktibbeha County and the City of Starkville."
Set atop the rolling hills, the MS Horse Park is a beautiful 100 acre facility that is a unique partnership of the City of Starkville, Oktibbeha County and Mississippi State University. Located just south of the Mississippi State University main campus, the Horse Park hosts an average of 40 events a year and had over 40,000 people come through the gates in 2007. Not only does the Horse Park offer a variety of fantastic events but it is also dedicated to supporting 16 hours of weekly labs and classes taught through the university along with hosting a therapeutic riding program.
Starkville has the Magnolia Film Festival, held annually in February. It is the oldest festival in the state for independent films.
The Annual Cotton District Arts Festival in Starkville, held in the Historic Cotton District the 3rd weekend of April, is considered to be one of the top arts festivals in the state, drawing a record crowd of nearly 25,000 in 2008.
The Cotton District Arts Festival & Taste of Starkville 2008 will be held on Saturday, April 19 in the Historic Cotton District in Starkville, Miss... The festival is free and open to the public, and located just 0.2 miles from the Mississippi State University campus... The CDAF is a family-friendly event with live music, arts and crafts vendors, food vendors and more... Some of the festival events include the Taste of Starkville, Y'all Magazine Sweet Tea Challenge, Server Race, Father of Waters Bagpipe Parade, Juried Art Exhibition, Artison's Village, Poetry Slam, International Village, Old Cotton Mill 5K Run/Walk, the Junior Humane Society Children's Pet Parade, more than 30 local food vendors, over 100 local artisans vendors, and non-stop live entertainment from 9:30 a.m. - 5:30 p.m. on three different stages: Already booked for the CDAF '07 are the Skeleton Crew, Maria y El Sol, Nash Street, Big Blue Truck, BlackJack Road, Young Agent Jones, Roadhouse, the Artesia Jubilees, Ex- Supermodel, Jeff Cummings & Jeffrey Rupp, The Jarheads, The Pounder, TomFoolery, HayJay, Bobby Shannon, the Dawn Barham Band and more TBA... *For more information, contact Jen Rabideau at 662-312-3076 or jrabid@yahoo.com or Candy Crecink at 662-324-3008 or starkvillearts@yahoo.com at the Starkville Area Arts Council, or Ben Bounds at the Greater Starkville Development Partnership at 662-323-3322 or bbounds@starkville.org. http://starkvillearts.org/CDAF.shtml http://www.starkville.org
COTTON DISTRICT PLAZA (New 1/16/08)
Foundations are being poured for the next ambitious project...The Cotton District Plaza
RUE DU GRAND FROMAGE (New 1/16/08)
Vistors to this newly completed area are frequently surprised at its European character.
THE 2005 COTTON DISTRICT ARTS FESTIVAL
Held annually in April, the Cotton District Arts Festival brings young and old to the Cotton District to enjoy good food, music and the works of local artists and craftsmen
AERIAL PHOTOGRAPHS AND MAPS OF THE COTTON DISTRICT
Includes several large aerial images and maps depicting various aspects of the Cotton District.
PLANTER'S ROW & BALTZEIGER COURT
Built in the mid-1980's, Planter's Row and Baltzeiger Court are privately owned residential communities
SOUTH NASH STREET
South Nash Street is located on the West side of the District.
HOLTSINGER AVENUE
Holtsinger Avenue, with the Camp Family Home, is perhaps the most elaborately developed area in the Cotton District.
THE SEVEN SISTERS OF MAXWELL STREET
Seven small, but cleverly executed loft cottages on Maxwell Street
THE FOUR APOSTLES OF LUMMUS DRIVE
Four two-story apartments with authentic proportion and detail
LUMMUS DRIVE
Includes Camp's first townhouses and a number of unique housing solutions
THE COTTON EXCHANGE
This three-story building on University Drive houses 10 apartments, a restaurant, ice-cream shop and salon
PAGE AVENUE
Includes the Sanders' Mansion, the Mississippi Houses, and several single-family homes converted into multi-unit apartments
MISCELLANOUS PICTURES FROM THE COTTON DISTRICT
Includes the Temple, and various courtyards and alleyways
On hand for the festivities were Y'all Magazine, Southern Living Magazine and Peavey Electronics, over 100 of the state's top artisans and 25 live bands.
Starkville is also the home of Bulldog Bash, Mississippi's largest open-air free concert.
Notable people of Starkville
Birthplace of:
Cool Papa Bell - African-American baseball great, 1903-1991,
James Thomas "Cool Papa" Bell (May 17, 1903 – March 7, 1991) was an American center fielder in Negro league baseball, considered by many baseball observers to have been the fastest man ever to play the game. He was elected to the Baseball Hall of Fame in 1974.
Born May 17th, 1903, in Starkville, Mississippi, Bell joined the St. Louis Stars of the Negro National League as a pitcher in 1922. By 1924, he had become their starting center fielder, and was known as an adept batter and fielder, and the "fastest man in the league". After leading the Stars to league titles in 1928, 1930, and 1931, he moved to the Detroit Wolves of the East-West League when the Negro National League disbanded. Detroit soon folded, leaving Bell to bounce to the Kansas City Monarchs and the Mexican winter leagues until finding a home with the Pittsburgh Crawfords in the reorganized NNL. In Pittsburgh, he played alongside Ted Page and Jimmie Crutchfield to form what is considered by many to have been the best outfield in the Negro Leagues. Bell left the Crawfords in 1938 to return to Mexico, coming back to baseball in the United States in 1942 to play for the Homestead Grays, who won Negro League titles in 1942, 1943, and 1944 with his help. He last played for the semi-pro Detroit Senators in 1946. He coached for the Monarchs in the late 1940s, managing their barnstorming "B" team, scouting for the club, signing prospects, and teaching the ins and outs of the game to future major-league baseball greats Ernie Banks, Jackie Robinson, and Elston Howard, among others.
Because of the opposition the Negro Leagues faced, and because of the lack of reliable press coverage of many of their games, no statistics can be given for Bell with any accuracy. What is undeniable is that Bell was considered to be one of the greats of his time by all the men he played with (including Satchel Paige and Josh Gibson). He is recorded as having rounded the bases in 12 seconds. As Paige himself noted in his autobiography, Maybe I'll Pitch Forever, "If Cool Papa had known about colleges or if colleges had known about Cool Papa, Jesse Owens would have looked like he was walking."
Paige also liked to tell a tall tale referencing one hotel at which he and Bell stayed, in which there was a short delay between flipping the light switch off and the lights actually going off due to faulty wiring, sufficient for Bell to jump into bed in the interim. Leaving out the explanatory details, Paige liked to say that Bell was "so fast he can turn off the light and be in bed before the room gets dark!" Paige also joked of a time when facing Bell that the outfielder hit a line drive up the middle that went screaming past Paige's ear, and hit Bell in the buttocks as he was sliding into second base.
Many tales exist of "Cool Papa". For example, one claims that Bell scored from second base on a sacrifice fly. Another states that he went from first to third on a bunt, which is possible for a speedy runner if the fielded ball was thrown to first for the sure out and the first baseman, who rarely have strong throwing arms, was unable to make the long throw to third in time. More astonishing is the claim related in Ken Burns' Baseball that he once scored from first on a sacrifice bunt. In an exhibition game against white all-stars, Bell broke for second on a bunt and run, with Satchel Paige at the plate. By the time the ball reached Paige, Bell was almost to second and rounded the bag, seeing the third baseman had broken towards home to field the bunt. The catcher, Roy Partee of the Boston Red Sox, ran to third to cover the bag and an anticipated return throw from first. To his surprise, Bell rounded third and brushed by him on the way home; pitcher Murry Dickson of the St. Louis Cardinals had not thought to cover home with the catcher moving up the line, and Bell scored standing up. Another states that he stole two bases on a single pitch, which is difficult but feasible if a catcher making the throw to second made a mediocre throw and had a shortstop unable to catch the runner at third with a throw. There are many other, possibly exaggerated anecdotes about Bell, such as running a full trip around the bases in 11 seconds. Perhaps the most unlikely was that he was once called out for being hit by his own batted ball while trying to slide into second base.
"Cool Papa" Bell died in his home on Dickson Street in St. Louis, Missouri at age 87. In his honor, the city renamed Dickson Street as "James 'Cool Papa' Bell Avenue". He has also been inducted into the St. Louis Walk of Fame.
Also named for him is Cool Papa Bell Drive, the road leading into the Mississippi Sports Hall of Fame and Museum in Jackson, of which he is a member. The Hall and Drive are adjacent to Smith-Wills Stadium, longtime home of the Jackson Generals of the Texas League, now home to the Jackson Senators of the independent Texas-Louisiana League.
Statue of Cool Papa Bell outside Busch Stadium in St. Louis, Missouri.
In 1999, Cool Papa Bell was ranked 66th on The Sporting News list of Baseball's Greatest Players, one of five players so honored who played all or most of his career in the Negro Leagues, and was nominated as a finalist for the Major League Baseball All-Century Team. John Holway in his book says that James finished in the Top 5 in stolen bases 9 times.
Bell was used in the 1999 mystery novel Hanging Curve by Troy Soos, which takes place in Missouri, Indiana, and Illinois in 1922 with major Ku Klux Klan activity.
He was also noted in the 1994 movie Cobb, in which Ty Cobb, played by Tommy Lee Jones, is chided for being a lesser player than Bell.
He was recognized in an episode of The Proud Family, known as Cool Papa Mack.
Jerry Rice - National Football League Hall of Fame & College Football Hall of Fame Wide Receiver for the San Francisco 49ers, Oakland Raiders and Seattle Seahawks, 3-time NFL World Champion, 13-time NFL Pro Bowler, 10-time NFL All Pro, Super Bowl MVP and former Mississippi Valley State University Standout (drafted 16th overall in the 1985 NFL Draft and 1st overall in the USFL Draft that same year). Set and still owns multiple NFL and NCAA records for receiving.
Jerry Lee Rice (born October 13, 1962 in Crawford, Mississippi) is a former football wide receiver in the NFL. Rice is widely regarded as the greatest wide receiver ever and one of the greatest players in NFL history, consistently showing exceptional performance and strong work ethic on and off of the field. In addition to being the all-time leader in every major statistical category for wide receivers, Rice was selected to the Pro Bowl 13 times (1986–1996, 1998, 2002) and named All-Pro 10 times in his 20 NFL seasons. He won three Super Bowl rings as a member of the San Francisco 49ers, (1985–2000), an AFC Championship with the Oakland Raiders (2001–2004)
Shauntay Hinton - Miss USA 2002,
Shauntay Hinton is an actress and former beauty queen from Starkville, Mississippi who won the Miss USA title in 2002.
Education,
Hinton graduated from Starkville High School in 1997. She later studied broadcast communications at Howard University.
Pageants,
Hinton won the Miss District of Columbia USA 2002 title in November 2001, the first time she had competed in the competition. Hinton hails from Starkville, Mississippi and . She qualified to compete there because she was attending Howard University.
Hinton went on to represent the District of Columbia at the Miss USA 2002 pageant held in Gary, Indiana on 28 February, 2002. Where she became the third African American to win the Miss USA title. The pageant marked the first time that 4 out of the 5 five finalists were African American.
Hinton later competed in the Miss Universe 2002 pageant in Puerto Rico in May that year. As of 2007, she is one of only three Miss USA winners not to have placed among the semifinalists at Miss Universe. The other two are Miss USA 1976 Barbara Peterson and Miss USA 1999 Kimberly Pressler.
Casting,
She plays a live action character, reporter Brittany Bhima, in the video game Command & Conquer 3: Tiberium Wars, released in 2007.
Hayes Jones - gold medalist in the 110-meter hurdles at the Tokyo 1964 Olympics,
Hayes Wendell Jones (born August 4, 1938) is a former American athlete, winner of 110 m hurdles at the 1964 Summer Olympics.
Born in Pontiac, Michigan, Hayes Jones was quite short for a hurdler (only 5 feet and 10 inches), but his outstanding speed, great start, and nearly perfect technique won him many championship titles.
Jones burst onto the international athletics scene by winning the 120 yd (110 m) hurdles in 1958 AAU championships. He won four more AAU titles: 1960 and 1964 in 110 m hurdles and 1961 and 1963 in 120 yd (110 m) hurdles.
In 1959, Jones, as an Eastern Michigan University representative, won the NCAA titles in 120 yd (110 m) and 220 yd (200 m) hurdles, following his first major international experience, when he won the 110 m hurdles at the Pan American Games.
A year later, at the Rome Olympics he was third behind teammates Lee Calhoun and Willie May, after which many observers believed he had reached his peak performance. But he returned to the 1964 Olympic Games in Tokyo, where he won the gold medal and his teammate Blaine Lindgren won the silver. Jones also ran on a 4x100 m relay team that set a world record in 1961.
After retiring from competition, Jones became New York City's director of recreation in 1967. He has also worked in American Airlines and owned his own baggage check-in service at Detroit Metropolitan Airport. From January 2005 through March 2006, Jones served as the director of the Oakland County Department of Economic Development & Community Affairs.
In 2006 he left Oakland County to run for State Representative in Pontiac, Michigan to finish the term vacated by newly elected Pontiac Mayor Clarence Phillips and to win a full two year term starting in January, 2007. Jones was on the primary ballot twice; the first to finish the term left vacant by Phillips, and second, to be the Democratic candidate for the full two year term in the general election. Oddly Jones won the right to be the Democratic candidate for the remainder of the two months left on Phillips' term while Tim Melton will be the Democratic candidate for the full two year term.
On July 1, 2007 Jones assumed the position of General Manager of SMART (Suburban Mobility Authority for Regional Transportation), the public transit operator serving suburban Detroit, Michigan.
Travis Outlaw - NBA basketball player with the Portland Trail Blazers,
Travis Marquez Outlaw (born September 18, 1984 in Starkville, Mississippi) is an American professional basketball player currently with the Portland Trail Blazers of the NBA.
Entering the 2003 NBA Draft directly out of Starkville High School, Mississippi, the 6'9" forward was a first-round selection (23rd overall) by the Trail Blazers. He has averaged 6.8 points on 45.0% field goal shooting and 2.6 rebounds per game during his four-year career.
In the 2005 Vegas Summer League, Travis averaged 18.7 points and 6.3 rebounds in 35.5minutes. The performance earned him First Team All-RVSL honors. Following the summer league, several teams offered to trade for Travis in exchange for a first-round draft pick. Portland Trail Blazers director of player personnel Kevin Pritchard has said that Travis is "...going to be with us for a long time. I feel comfortable enough to say he's going to be a special player."
On April 18, 2007, Outlaw set a new career-high with 36 points against the Golden State Warriors. He became a restricted free agent on July 1, 2007, and signed a three-year contract extension on July 17. Outlaw's agent, Bill Duffy, told The Oregonian that the contract is worth about $12 million, but Blazers general manager Kevin Pritchard refused comment.
Antuan Edwards - NFL player,
Antuan Edwards (born May 26, 1977 in Stakville, Mississippi) is a retired American football player. He played safety in the National Football League. Edwards was drafted by the Green Bay Packers in the first round (25th overall) of the 1999 NFL Draft out of Clemson University.
He attended Starkville High School in Mississippi, where he played quarterback, safety, and running back. He was named All-American as a safety in his senior year. At Clemson, he started thirty-three games and recorded a total of 219 tackles, with eight interceptions. During his senior year, he was a first-team All-Atlantic Coast Conference and was a finalist for the Jim Thorpe award.
Early career,
Edwards was selected in the first round of the 1999 NFL Draft by the Green Bay Packers, the first of three consecutive defensive backs the Packers would take in that draft; the others being Fred Vinson and Mike McKenzie.
Edwards would play all sixteen games of his rookie season, starting one of them. During the course of the year, he made a total of thirty tackles (twenty-six solo), had four interceptions, and was named to the College & Pro Football Weekly All-Rookie team. The following season, he started three games but saw his tackle total go down to twenty-five, while defending nine passes and two interceptions. Edwards only played in three games in 2001 when he suffered a knee injury and was placed on injured reserve. In 2002, he started the season as the team's starting safety, but was replaced early on by rookie Marques Anderson following a forearm injury. He spent the rest of the season as a backup and totaled forty-four tackles.
Later career,
He beat out Anderson for the starting job in 2003 and started a career-high twelve games, and recorded 51 tackles. He would finish the season on injured reserve following a late-season injury. He left the Packers at the end of the season to join the Miami Dolphins. He started eight games for the team and had 35 tackles when he was released from the team. He was claimed by the St. Louis Rams, where he ended the season with five starts and 30 more tackles. Edwards then signed with the New England Patriots but was cut, and signed with the Atlanta Falcons. He started one game and had eleven tackles for the season, but was cut early on. He joined the Washington Redskins, but was released early in camp.
Freddie Milons - Wide receiver, University of Alabama, later played for the NFL's Philadelphia Eagles,
Freddie Milons (born June 27, 1980 in Starkville, Mississippi) is an American football wide receiver plaing for Team Alabama of the All American Football League and formerly of the National Football League. Milons was drafted by the Philadelphia Eagles in the 2002 NFL Draft. He did not see any playing time in the 2002 season. He then went to the Pittsburgh Steelers in 2003, where he also sat on the bench. He was signed by the Cincinnati Bengals but was cut August 2005. Milons was then drafted by Team Alabama of the All American Football League. He quit the team before the start of the season.
Jess Mowry (1960) - American writer of juvenile books,
Jess Mowry (b. March 27, 1960 near Starkville, Mississippi) is an American author of books and stories for children and young adults. He has written fourteen books and many short stories for and about Black children and teens in a variety of genres, ranging from innercity settings to the forests of Haiti.
Jess Mowry was born to an African American father, and a Caucasian mother. When he was only a few months old, his mother abandoned him. His father took Jess to Oakland, California where he supported himself and his son by working as a crane operator, truck driver, and scrap metal salvager. Jess's father was a voracious reader who introduced his son to books at a very early age. Jess attended public school but despite his love of reading was not an above-average student. He dropped out of school at age thirteen, part way through the eighth grade. After leaving school, Mowry worked with his father in the scrap-iron business, and in his late teens moved to Arizona to work as a truck driver and heavy equipment operator. He also lived and worked in Alaska as an engineer aboard a tugboat and as an aircraft mechanic on Douglas C-47 cargo planes.
Returning to Oakland in the early 1980s, Jess began working with kids at a youth center, reading to them and often making up stories because there were very few books that innercity youth could relate to. Later he began to write stories. In 1988, Jess sent one of his stories to Howard Junker, editor of Zyzzyva magazine in San Francisco. Junker rejected the tale but asked to see more work, and published the second story Jess sent. Mowry bought a 1923 Underwood typewriter for eight dollars and within a year his work was appearing in literary magazines in the United States and abroad.
In 1990, Mowry's first collection of stories, Rats in the Trees, won a PEN Oakland/Josephine Miles Literary Award. Rats in the Trees was also published in the United Kingdom, Germany and Japan. In 1991, Mowry's first novel, Children Of The Night, was published by Holloway House in Los Angeles. In 1992, his second novel, Way Past Cool, was published by Farrar, Straus & Giroux of New York. Way Past Cool was also published in the United Kingdom, Italy, France, Germany, Holland, Sweden, Denmark, Finland, and Japan. Way Past Cool was optioned for a film, for which Mowry co-wrote the screenplay. The film, Way Past Cool, was produced by Redeemable Features in 2000 with director Adam Davidson and executive producers Norman Lear and Milos Forman. Other novels followed, including Six Out Seven, Babylon Boyz, Bones Become Flowers, Skeleton Key, Phat Acceptance and Voodu Dawgz.
Mowry's characters and settings range from gun-toting gang kids in Oakland to young Voodoo apprentices in New Orleans' French Quarter, to teenage airplane pilots and child-soldiers in Africa. As Mowry's puts it: "Almost all my stories and books are for and about black kids who are not always cute and cuddly. My characters often spit, sweat and swear, as well as occasionally smoke or drink. Just like their real-world counterparts, some are 'overweight,' may look 'too black,' or are otherwise unacceptable by superficial American values. Like on-the-real kids, they often live in dirty and violent environments, and are forced into sometimes unpleasant lifestyles."
Jess Mowry emerged during the mid- 1990s as one of America's most original and important -- yet relatively unheralded black writers. His low profile is as much a matter of personal preference as of any lack of merit or of public interest in his writing. Mowry has declined to take the easy way, refusing to be seduced by fame or money into writing the kind of black ghetto fiction that mainstream publishers seem to want. Instead, Mowry remains socially committed and aware; he prefers doing things his way as he works to improve the lives and self-image of black street kids.
Jess Mowry lives in Oakland.
Mark Applebaum - jazz pianist and composer of electronic music,
Quincy Hilliard - composer, author and professor,
Morris "Mo" Evans - musician,
Douglas McConnell - composer,
Brandi Shurden - musician,
Chad Anderson - musician, drummer,
Nash Street - bluegrass band, Winners of the 26th Annual Colgate Country Showdown.
Current residence of:
Sylvester Croom - first African-American head football coach in the Southeastern Conference (Mississippi State University),
Sylvester Croom, Jr. (born September 25, 1954) is the football head coach at Mississippi State University. He is the first African American head football coach in the Southeastern Conference. His father, Sylvester Croom, Sr., was himself an All-American football player at Alabama A&M, later the team chaplain at the University of Alabama, and has been recognized posthumously by that school as one of the state's 40 pioneers of civil rights.
Playing career,
Croom, a native of Tuscaloosa, Alabama, starred at Tuscaloosa High School as a linebacker and tight end. He then played those same positions before settling in at center for Paul "Bear" Bryant at the University of Alabama, where in 1974 he was a senior captain, earned the Jacobs Blocking Trophy, and like his father years earlier earned Kodak All-American honors. During his playing career there, Alabama garnered three SEC championships from 1972 to 1974 and a national title in 1973.
He played one season in the National Football League for the New Orleans Saints before returning to the University of Alabama to begin his coaching career.
Coaching career,
Before coaching at Mississippi State, Croom was an assistant at Alabama for 11 seasons, one as a graduate assistant coach and ten more variably as inside and outside linebackers coach. During this eleven-year period on the Alabama staff Croom participated in ten bowl games, two national championships in 1978 and 1979, and he coached four eventual NFL first-round draft picks, including Cornelius Bennett and Derrick Thomas.
He then spent 17 years in the professional ranks as running backs coach at Tampa Bay, Indianapolis, San Diego, and Green Bay. Before going to Green Bay he served as offensive coordinator for Detroit from 1997-2000, and during his tenure in San Diego was on the Chargers' staff for Super Bowl XXIX.
He was a finalist for the head coach position at the University of Alabama in 2003, but the job ultimately went to Mike Shula. In March 2004, Alabama's Sylvester Croom Commitment to Excellence Award, given annually for 16 years to outstanding players, was changed to the Bart Starr Commitment to Excellence Award, reportedly at Shula's request. The award has since been changed back and has Croom's name attached. Shula originally changed the award because he did not want an award named for a rival coach. After complaints by alumni and fans, the award was changed back to its original name.
After the 2007 season, during which his team won 8 games, including a Liberty Bowl win, Croom garnered Coach of the Year awards from three organizations. On December 4, 2007, Croom was named coach of the year by the American Football Coaches Association for region two. The AFCA has five regional coaches of the year and announces a national coach of the year each January. That same year, on December 5, Croom was named SEC Coach of the Year twice, once as voted by the other SEC coaches and once as voted by The Associated Press. It was the first time a Mississippi State coach received the AP honor since Charley Shira in 1970 and the first time a Mississippi State coach received the coaches award since Wade Walker in 1957.
Education,
Croom earned a Bachelor of Science degree in history with a minor in biology from the University of Alabama in 1975 at the age of twenty and while a graduate student and coach there earned a master's degree in educational administration in 1977.
First African-American head football coach in the SEC,
Responses,
Croom has consistently downplayed the personal significance of his status as the first African-American to be the head coach of an SEC football team. A characteristic response has been that while he is proud of his African-American heritage, the most important part for him is "the head coach part" and the ability to pursue a dream he has held for all of his adult life, stating notably at a press conference upon his acceptance of the position "I am the first African-American coach in the SEC, but there ain't but one color that matters here, and that color is maroon." Elsewhere, in an interview shortly before his first season as a head coach, when asked if as the first African-American coach in the SEC he considered himself "a trailblazer," Croom responded "I'm just a guy trying to do the best job he can. It just happens that the timing of my hiring puts me in that position. I don't see myself that way. If other people perceive that, so be it. I'm just trying to do the best I can here."
However, the initial response to his hiring was lauded by many as a moment of relative cultural significance. An article published in USA Today on the day that Croom was hired listed a few responses from members of the political, cultural, and athletic communities. In it Julian Bond, chairman of the NAACP, noting that the hire was in Mississippi, a state often regarded as having one of the poorest civil rights records, said that "For Mississippi State to place the fortunes of its team in black hands is more than welcome, however long it has taken." In the same article Bennie Thompson, the lone black member of Mississippi's U.S. congressional delegation, said that the hiring "speaks well of Mississippi State. Mississippi State alumni and friends are more concerned about winning than the color of the coach. There's still a lot of work to be done by other schools."
On February 12, 2007 in observance of Black History Month President George W. Bush, at a gathering of African-American leaders and dignitaries where Croom was present, recognized the efforts and achievements of NFL football coaches Tony Dungy and Lovie Smith, both acquaintances of Croom and a friend in Dungy's case. The President went on to state that he was "proud to be [there] with another football coach who deserves a lot of credit, Sylvester Croom, who is the head football coach from Mississippi State University. His achievement is the first African American coach in the Southeastern Football League -- Southeastern Conference. He was picked because he's a strong leader and a fine man. And I thank you for blazing trails."
In February 2008 Croom was featured in a half-hour segment of "Say it Loud," ESPN's documentary celebration of Black History Month. In it are featured interviews with Croom along with coaches and players, among others. Relevant to the topic he speaks generally in this documentary on his decision to accept Mississippi State's offer for the head coaching position and on his race and the history of race relations in the region being major contributing factors.
Position at Alabama,
Croom's own position on African-American coaches in college football has not always been so apolitical, however. In an interview with Black Athlete Sports Network in July, 2003, after losing out to Mike Shula in the head coach vacancy for the University of Alabama Croom speculated that race was more of a factor in that hiring process than University of Alabama athletic director Mal Moore let on and that he lost the job because of it. "I have a real problem there," he said. "A lot of those [SEC] schools, guys are good enough to play for them, good enough to be assistant coaches and not good enough to be in the positions of decision making and the positions of high financial reward. And they're qualified." In that same interview with Black Athlete Sports Croom acknowledged that he "had great support from the former players and the fans there and even some people within the administration," but that "Somewhere in the final process, somebody made another decision." His initial impression of the interview with Alabama was that it was fair and was so positive that he considered himself to be the lead candidate afterwards, which was why he was so surprised when the offer was given to Shula, a coach with over ten fewer years of coaching experience. Afterwards the Rev. Jesse Jackson got involved, calling for an investigation into the hiring practices at Alabama and all SEC schools. Croom's response to Jackson's intervention was that "Rev. Jackson did his job. Because quite often, inside the business you can't draw attention to things. He is a voice for a great mass, for a lot of people who don't have a voice." On the question of Croom's timing in his response to this issue being given only after Jackson's call for investigation, he continued by saying that "in this particular case, I felt I could speak for myself. I chose not to say anything at that particular time because there was just too much emotion."
Legacy of segregation,
Elsewhere Croom has treated his status as the first African-American head football coach in the SEC with the complexity he sees befitting the situation of a person so deeply connected to the American South. In a 2004 interview with The Washington Post Croom said of his situation in Mississippi that "There's much more at stake here than football. The fact that I'm African American, that I'm the State football coach -- well, I think it will have a positive impact on race relations in the state of Mississippi, and how the rest of the country views Mississippi. The place has changed a great deal. I don't know how many people outside here understand that. But they're about to find out." A 2003 article from the Milwaukee Journal Sentinel recalls his experiences of integration as a middle-schooler in Tuscaloosa, the near-lynching of his father years before in a case of mistaken identity, and segregated restrooms, an institution which he said "bothered me [then], and it still does to this day." In that article and elsewhere like the article in the Washington Post Croom and his family have communicated a cultural and historical connection to the South and an insistence that genuine progress has been made in race relations there. His younger brother Kelvin Croom, a pastor and assistant principal of Paul Bryant High School in Tuscaloosa, said in the Journal Sentinel interview of their experiences in the segregated South that "We chose not to be intimidated. We chose to be motivated and hoped that one day we would make a difference. And we have made a difference, because the crosses have been taken down and the ropes have been put away."
Bailey Howell - World Champion center for the NBA's Boston Celtics and former Mississippi State University stand-out,
Bailey E. Howell (born January 20, 1937 in Middleton, Tennessee) is a former professional basketball player. A 6'7" forward from Mississippi State University, he played 12 seasons (1959–1971) in the NBA as a member of the Detroit Pistons, Baltimore Bullets, Boston Celtics, and Philadelphia 76ers. A six-time All-Star with 17,770 career points, he was elected to the Naismith Memorial Basketball Hall of Fame in 1997. He won two NBA championships with the Boston Celtics. The best years of his career were during his time at the Bullets and the Celtics. At his alma mater, he still set and held records even though during his playing days he was only allowed to play three varsity seasons because of a junior varsity freshmen year and did not have a three point line or shot clock. He is considered a legend to the Bulldog basketball faithful, and one of, if not, the most famous players to have played at MSU. He is probably most known for his hook shot, rebounding ability, and work ethic as a player and person. After his career ended, he went onto work with the shoe company Converse mostly with the Converse All-Star. He resides at his home in Starkville, Mississippi where he is very active in Mississippi State athletics fund-raising, specifically the Bulldog Club, an organized fund to pay for MSU athlete's scholarships. The award for the best collegiate basketball player in the state of Mississippi was named in his honor in 2006, and the award is given annually as the Howell Award.
Willie Daniel - World Champion running back for the Los Angeles Rams and former Mississippi State University stand-out,
William Paul Daniel (born November 10, 1937 in New Albany, Mississippi) is a former American football defensive back who played nine seasons in the NFL.
Amy Tuck - Mississippi's former Lieutenant Governor,
Amy Tuck (born July 8, 1963) is a former lieutenant governor of Mississippi. A Republican, she is only the second woman elected to statewide office in Mississippi and the first to have been re-elected.
Tuck, a native of tiny Maben in Oktibbeha County in north central Mississippi, received a bachelor's degree in political science and a master's degree in public administration from Mississippi State University in Starkville and a Juris Doctor degree from Mississippi College School of Law.
In 1990, she defeated five others to be elected to the Mississippi Senate to represent Choctaw, Montgomery, Oktibbeha and Webster counties. In 1995, Tuck ran for Secretary of State to fill the post of Dick Molpus, who ran unsuccessfully for governor against Kirk Fordice. She was narrowly defeated in the Democratic primary by Eric Clark, the eventual winner. Undeterred by the political setback, she ran for lieutenant governor in 1999 and defeated Bill Hawks.
In 2002, just two years into her term having been elected as a Democrat, Tuck made national headlines when she switched from the Democratic Party to the Republican Party. She cited philosophical differences with her former party on issues such as abortion, gay rights, civil justice reform, and congressional redistricting. In 2003, Tuck was re-elected with 61 percent of the vote, this time as a Republican. She defeated former Democratic state Senator Barbara Martin Blackmon.
Due to term limits, Tuck was ineligible to seek a third term as lieutenant governor in the 2007.
On October 16, 2007, it was announced that Tuck will become a special assistant to the president at Mississippi State University, her alma mater. Her appointment, which was approved by the state Board of Trustees of the Mississippi Institutions of Higher Learning, is effective January 2008 once her official state duties are complete. In her new role at MSU, Tuck will interact with state, federal and private sector officials to facilitate the university's economic development efforts, provide consultation on public policy issues and interact with a variety of state, national and international organizations.
Phil Bryant won the 2007 election for Mississippi Lieutenant Goveror and succeeded Tuck in early 2008.
Gregory Byrne - Mississippi State University Athletic Director,
Greg Byrne is the current athletic director of Mississippi State University.
Early life,
Byrne grew up in San Diego, California, and Eugene, Oregon.[citation needed] He attended Arizona State University. He started working around athletics working for the Fiesta Bowl. Then he was the director of the "Duck Club" for the University of Oregon. In 1998, Byrne went from Oregon to Oregon State University, as the director of the "Beaver Club". In 2002 he took a job at the University of Kentucky as a assiant athletics director. In 2005 he worked for a litigation support software company, CaseLogistix, out of Jackson, Mississippi. In 2006, Byrne took the "Bulldog Club" director job for Mississippi State University.
Athletic director career,
Byrne is the current athletics director. On July 1, 2008. On June 7, 2008, Byrne hired John Cohen to replace Ron Polk, who retired in March. Polk, who endorsed his assistant Tommy Raffo upon his retirement, protested the hire, and called Byrne unqualified.
Educated in:
Edwin Granberry - one of the writers of the comic strip "Buz Sawyer",
Edwin Phillips Granberry (18 April 1897-5 December 1988) was an American writer, novelist, and translator.
Early life,
Edwin Granberry was born in Meridian, Mississippi, and went to Starkville High School. He was educated at the University of Florida (from 1916 to 1918), at Columbia University (in 1920), and at Harvard University (from 1922-1924).
Career,
Granberry became an English professor at Rollins College in 1933.
Granberry was a reviewer (for The New York Sun) of Margaret Mitchell's Gone with the Wind, which he compared favorably to War and Peace by Leo Tolstoy. He is perhaps best known for his 30-year run as a writer on the Roy Crane comic strip Buz Sawyer.
Buz Sawyer was a popular comic strip created by Roy Crane that ran from November 1, 1943 to 1989. The last strip signed by Crane was dated 21 April 1979.
During World War II, the adventurous John "Buz" Sawyer was a Navy fighter pilot in the Pacific Theater. As a civilian in the post-WWII years, he worked as an oil company troubleshooter, but he rejoined the Navy in the 1950s.
Background on Buz,
Roy Crane was one of the innovators of the adventure comic strip. Wash Tubbs began in 1924 as a humorous story about the romantic adventures of Washington Tubbs, but increasingly Tubbs became involved in exciting adventures in exotic places. With the creation of the popular soldier of fortune Captain Easy in 1929, the strip became, along with Tarzan of the Apes and Buck Rogers, one of the first adventure strips. However, Crane was an employee of the Newspaper Enterprise Association syndicate, which owned the rights to the Tubbs and Easy characters. Crane approached King Features Syndicate with an idea for a new strip, and when they offered him ownership, he abandoned Wash Tubbs and Captain Easy strips in 1943, giving full concentration to launching Buz Sawyer.
Rosco Sweeney, who was Sawyer's comic-relief sidekick, largely disappeared from the dailies after the war. Instead, Sweeney was the central character of the Buz Sawyer Sunday strip, a comedy about rural and suburban life. Beginning in the late 1940s, Crane turned the writing and drawing chores for that strip over to cartoonist Clark Haas, who was a pioneer jet pilot. Later, Al Wenzel did the Sunday strip.
Eventually, Crane turned most of the writing and drawing of the daily strip over to assistants Edwin Granberry and Hank Schlensker, who began signing it after Crane's death in 1977. When they retired a decade later, John Celardo drew the daily until it was discontinued in 1989.
Family tree,
John "Buz" Sawyer
Christy Jameson – his fiance, later wife
Pepper Sawyer– their son, named for Edwin Granberry's great nephew, William R. "Pepper" Chalker
Lucky Sawyer – Buz's brother, musician
He also served as a writer for the TV series Star Tonight, in 1955.
Rich Fields - Announcer, The Price is Right,
John Grisham - Acclaimed Author of International Best-Selling novels A Time to Kill, The Firm, The Pelican Brief, Runaway Jury, The Client, The Chamber, etc.
John Ray Grisham (born February 8, 1955) is an American ex-politician, retired attorney and novelist, best known for his works of modern legal drama. As of 2008, his books have sold over 235 million copies worldwide.
Biography and career,
John Grisham, the second oldest of five siblings, was born in Jonesboro, Arkansas, to Southern Baptist parents of modest means. His father worked as a construction worker and a cotton farmer; his mother was a homemaker. After moving frequently, the family settled in 1967 in the town of Southaven in DeSoto County, Mississippi, where Grisham graduated from Southaven High School. He played as a quarterback for the school football team. Unlike the main character in his 2003 novel, Bleachers, he wasn't an All-American football player. Encouraged by his mother, the young Grisham was an avid reader, and was especially influenced by the work of John Steinbeck whose clarity he admired.
Education,
In 1977 Grisham received a Bachelor of Science degree in accounting from Mississippi State University. Grisham tried out for the baseball team at Delta State University, but was cut by the coach, who was former Boston Red Sox pitcher, Dave Ferriss. He earned his Juris Doctor degree from the University of Mississippi School of Law in 1981. During law school Grisham switched interests from tax law to criminal and general civil litigation. Upon graduation he entered a small-town general law practice for nearly a decade in Southaven, where he focused on criminal law and civil law representing a broad spectrum of clients. As a young attorney he spent much of his time in court proceedings.
Political life,
In 1983 he was elected as a Democrat to the Mississippi House of Representatives, where he served until 1990. During his time as a legislator, he continued his private law practice in Southaven. He has donated over $100,000 to Democratic Party candidates. In September, 2007 Grisham appeared with Hillary Rodham Clinton, his choice for U.S. President in 2008, and former Virginia Governor Mark Warner, whom Grisham supports for the U.S. Senate seat being vacated by Republican John Warner (no relation). Grisham himself had considered challenging former GOP U.S. Senator George Allen, Jr. in the 2006 election in which Allen was narrowly defeated by the Democrat James Webb.
Inspiration for first novel,
In 1984 at the DeSoto County courthouse in Hernando, Grisham witnessed the harrowing testimony of a 12-year-old rape victim. According to Grisham's official website, Grisham used his spare time to begin work on his first novel, which "explored what would have happened if the girl's father had murdered her assailants." He "spent three years on A Time to Kill and finished it in 1987. Initially rejected by many publishers, the manuscript was eventually bought by Wynwood Press, who gave it a modest 5,000-copy printing and published it in June 1988."
The day after Grisham completed A Time to Kill, he began work on another novel, the story of a young attorney "lured to an apparently perfect law firm that was not what it appeared." That second book, The Firm, became the 7th bestselling novel of 1991. Grisham then went on to produce at least one work a year, most of them wildly popular bestsellers. He is the only person to author a number-one bestselling novel of the year for seven consecutive years (1994–2000).
Beginning with A Painted House in 2001, the author broadened his focus from law to the more general rural south, while continuing to pen his legal thrillers.
Publishers Weekly declared Grisham "the bestselling novelist of the 90s," selling a total of 60,742,289 copies. He is also one of only a few authors to sell two million copies on a first printing; others include Tom Clancy and J.K. Rowling. Grisham's 1992 novel The Pelican Brief sold 11,232,480 copies in the United States alone.
Courtroom re-appearance,
Grisham returned briefly to the courtroom in 1996 after a five-year hiatus. According to his official website, he "was honoring a commitment he made before he had retired from the law...representing the family of a railroad brakeman killed when he was pinned between two cars...Grisham successfully argued his clients' case, earning them a jury award of $683,500." Another tie to the legal community that he continues to hold is his seat on the Board of Directors for the Innocence Project, an organization dedicated to exonerating the innocent through DNA testing after they have been convicted.
Hartley Peavey - Founder of Peavey Electronics, the world's largest manufacturer of sound amplification equipment,
Hartley Peavey is a founder and CEO of Peavey Electronics Corporation and a well-known innovator in the musical equipment industry. A 1965 graduate of Mississippi State University, Peavey has been recognized by his alma mater as an Alumni Fellow and as the 2004 commencement speaker. He also received an honorary doctor of creative and performing arts degree from Mississippi State in 2004.
Awards and honors,
List copied from Peavey corporate web site:
2003: Honored by the City of Meridian, Mississippi, with "Hartley Peavey Drive," (see article on Pro-Music-News web site)
2001: Inducted into the Mississippi Musicians Hall of Fame (see also Mississippi Musicians Hall of Fame web site)
1996: Profiled by CNN and featured in international print ad campaign in Forbes, The Economist, BusinessWeek and Money
1991: Honored by the President of the United States, George H. W. Bush, for workplace training, education and achievements in the international marketplace
1990: Inducted into Rock Walk of Fame, Hollywood, California (see also Rock Walk of Fame web site)
George Bryan - Founder of Bryan Foods,
Bryan Foods is a meat company that started in West Point, Mississippi, and is now a brand of Sara Lee.
John C. Stennis - U.S. Senator,
John Cornelius Stennis (August 3, 1901–April 23, 1995) was a U.S. Senator from the state of Mississippi. He was a Democrat who served in the Senate for over 41 years, becoming its most senior member by his retirement.
Early life,
Born in Kemper County, Mississippi, Stennis received a bachelor's degree from Mississippi State University in Starkville (then Mississippi A&M) in 1923. In 1928, Stennis obtained a law degree from the University of Virginia at Charlottesville, where he was a member of Phi Beta Kappa and Alpha Chi Rho. While in law school, he won a seat in the Mississippi House of Representatives, in which he served until 1932. Stennis was a prosecutor from 1932 to 1937 and a circuit judge from 1937 to 1947, both for Mississippi's Sixteenth Judicial District.
U.S. Senator,
Upon the death of Senator Theodore Bilbo in 1947, Stennis won the special election to fill the vacancy, winning the seat from a field of five candidates (including two sitting Congressmen: John E. Rankin and William M. Colmer). He remained in the Senate until 1989. From 1947 to 1978, he served alongside fellow Mississippi senator and Democrat James Eastland; notwithstanding his long service Stennis would serve 35 years as Mississippi's junior Senator. He and Eastland were at the time the longest serving Senate duo in American history, later broken by the South Carolina duo of Strom Thurmond and Fritz Hollings. He later developed a good relationship with Eastland's successor, Republican Thad Cochran.
Stennis wrote the first Senate ethics code, and was the first chairman of the Senate Ethics Committee.
In 1973, Stennis was almost fatally wounded by two gunshots after being mugged outside his Washington home. In October 1973, during the Watergate scandal, the Nixon administration proposed the Stennis compromise, wherein the hard-of-hearing Stennis would listen to the contested Oval Office tapes and report on their contents, but this plan went nowhere.
Stennis lost his left leg to cancer in 1984.
He was unanimously selected President pro tempore of the Senate during the 100th Congress (1987–1989). During his Senate career he chaired, at various times, the Select Committee on Standards and Conduct, the Armed Services committee, and the Appropriations committee. Because of his work with the Armed Services committee (1969–1980) he became known as the "Father of America's Modern Navy", and he was subsequently honored by having a supercarrier named after him. He is one of only two members of Congress to be so honored, the other being former Georgia Democrat Carl Vinson.
Civil rights record,
Throughout Stennis' long career, his record on civil rights was a mixed one. As a prosecutor, he sought the conviction and execution of three black men whose murder confessions had been extracted by torture. The convictions were overturned by the U.S. Supreme Court in the landmark case of Brown v. Mississippi (1936) that banned the use of evidence obtained by torture. The transcript of the trial indicates Stennis was fully aware of the methods of interrogation, including flogging, used to gain confessions.
Stennis (left) visited the Marshall Space Flight Center in mid-November 1967, where he was greeted at the Redstone Airfield by Center Director Dr. Wernher von Braun.
As a Senator, Stennis was initially a strong supporter of racial segregation, though his rhetoric was not nearly as virulent as other Mississippi politicians during the Civil Rights Movement. Nonetheless, in the 1950s and 1960s he vigorously opposed such legislation as the Voting Rights Act, as did most Southern senators. He also signed the Southern Manifesto of 1956 and openly supported Barry Goldwater's presidential bid in 1964, as did most of the state's prominent Democrats.
However, by the 1980s he regularly supported legislation to extend the civil rights of women and minorities, though he opposed the Martin Luther King holiday. He also campaigned (along with Governor Bill Allain) for Mike Espy in 1986 during Espy's successful bid to become the first black Congressman from the state since the end of Reconstruction.
Earlier in his career, Stennis had been the first Democrat to publicly criticize Joseph McCarthy on the Senate floor during the Red Scare, while Eastland supported McCarthy to the end. On balance, he was much more supportive of civil rights than Eastland. In some ways, Stennis' record on civil rights is similar to those of Goldwater, Robert Byrd, Sam Ervin and J. William Fulbright — all of whom opposed many federal civil rights bills not out of explicit racism, but because they felt the bills gave the federal government too much power over the states. Still, Stennis shied away from supporting civil rights legislation when there was no political risk in doing so.
Retirement,
Declining to run for re-election in 1988, Stennis retired from the Senate in 1989 at the height of his popularity. He never lost an election in 60 years as an elected official. He took a teaching post at his alma mater, which he held until his death in Jackson at the age of 93.
In his last election in 1982, Stennis easily defeated Republican Haley Barbour in a largely Democratic year.
At the time of Stennis' retirement, his continuous tenure of 41 years and 2 months in the Senate was second only to that of Carl Hayden. (It has since been surpassed by Robert Byrd, Strom Thurmond, Ted Kennedy, and Daniel Inouye, leaving Stennis sixth).
John Stennis is buried at Pinecrest Cemetery in Kemper County. He and his wife, the former Coy Hines, had two children, John Hampton and Margaret Jane.
USS John Stennis Aircraft Carrier
Naming honors:
The USS John C. Stennis.John C. Stennis Space Center
John C. Stennis Center for Public Service Training and Development (Stennis Center for Public Service)
John C. Stennis National Student Congress of the National Forensic League
John C. Stennis Lock and Dam
John C. Stennis Institute of Government
John C. Stennis Scholarship in Political Science
John C. Stennis Vocational Complex
USS John C. Stennis Aircraft Carrier and Carrier Strike Group
USS John C. Stennis University
G.V. 'Sonny' Montgomery - U.S. Congressman.
Gillespie V. "Sonny" Montgomery (August 5, 1920 – May 12, 2006) was an American politician from Mississippi who served in the U.S. House of Representatives 1967–1997. Montgomery, who was considered a pro-defense and pro-veterans Democrat, resided in Meridian, the seat of Lauderdale County, in eastern Mississippi.
Born in Laurel, Mississippi, he attended Mississippi State University in Starkville and was a member of Beta Tau chapter of Kappa Alpha Order. He served in the U.S. Army as a second lieutenant during World War II and also in the Korean conflict. He retired from the Mississippi National Guard as a Major General in 1980. He was the author of the G.I. Bill of Rights that gives servicemen money to pay for college and was a lead sponsor in establishing the Veterans Affairs cabinet level position.
On September 13, 1988, Sonny Montgomery became the first congressman to lead the U.S. House in reciting the Pledge of Allegiance as a permanent part of its daily and morning business operations. The day prior to his death, Congressman Gene Taylor introduced an amendment to House Defense Appropriations Bill to rename the bill the Sonny Montgomery National Defense Authorization Act for Fiscal Year 2007. Following his death, President Bush ordered U.S. flags to be flown at half staff . In addition, the U.S. House of Representatives canceled non-suspension votes on the day of his funeral. Montgomery was laid to rest at Magnolia Cemetery in Meridian, Mississippi.
Career in Public Life,
A Democrat, Montgomery held the following positions:
Mississippi State Senator, 1956–1966
U.S. Representative from Mississippi, 1967–97 (4th District 1967–73, 3rd District 1973–97)
Chairman, House Veterans' Affairs Committee
Delegate to Democratic National Convention from Mississippi, 1996.
On November 10, 2005, he was awarded the Presidential Medal of Freedom, the highest American civilian honor, by President George W. Bush.
Memorials,
A number of public projects have been named in his honor, including:
A statue of Montgomery on the campus of Mississippi State University where he was Student Association President for the 1942–43 school year.
The VA Hospital in Jackson, Mississippi
The G. V. Montgomery Lock on the Tennessee-Tombigbee Waterway
The G. V. "Sonny" Montgomery Naval Reserve Center at NAS Meridian in Meridian, Mississippi
The G. V. Montgomery Airport in Forest, Mississippi
The Mississippi Air National Guard's C-17 Globemaster II was named "The Spirit of G.V. 'Sonny' Montgomery." Montgomery became the third person in the United States to have a military fleet named in his honor.
The G.V. "Sonny" Montgomery Center for America's Veterans at Mississippi State University in Starkville, Mississippi.
The Montgomery Building, an administration building at Mississippi State University, is named in his honor.
Bed and Breakfast
THE CEDARS
Built in 1836, this historic antebellum plantation mansion reigns over a picturesque 183-acre estate dotted with forests, rolling pastureland and fishing ponds. Late Colonial and Greek Revival architecture prevail in this frontier home. Some of its architectural highlights include seven magnificent hand-carved fireplace mantles, ornate early 20th century electric light fixtures, early 19th century hardware, and hand poured glass. Each room has its own theme and character. The Cedars is only eight minutes to downtown Starkville and five minutes to Mississippi State.
For more information, contact: Erin Scanlon, Owner and Hostess 2173 Oktoc Road Starkville, MS 39759 (662) 324-7569
Welcome To Hickory Hill
Ivy Cabin
Cara's Cabin
Introduction:
Our cabins are located in the middle of
60 acres of Mississippi's Black Belt
Prairie and offer deluxe
accommodations in a tranquil country
setting. Whether you are visiting the
area for business or pleasure, you'll
experience relaxation at its best at
Hickory Hill - and we're only minutes
from the towns of Starkville, West Point,
and Columbus.
Amenities:
Nature trails
Breakfast basket
Fresh flowers
Grill and fire ring
Complimentary beverages and snacks
Books, magazines, and board games
TV with VCR/DVD and a selection of movies
Porches with rocking chairs and great views
Fully equipped kitchen
Washer and dryer
Fireplace
Hickory Hill Bed and Breakfast Cabins
Welcome to Hickory Hill!
For Reservations, Call (662) 324-2695
Meet the Innkeepers: Dan and Reita Jackson
We are longtime residents of the area and will be happy to answer any questions you
might have. We love to garden, travel, and volunteer.
At Hickory Hill, we grow an unusual assortment of plants that you might find
interesting, such as cotton, broomcorn, Red Apache sugarcane, devil's claw, and
more. There are osage orange trees as well as toothache trees growing, along with
the more common hickories, oaks, sassafras, persimmon, etc. Our Medicine Wheel
Garden is one of a very few in the United States and is based on the Native American
circle of life. It is a sacred, healing garden located across from our barn, and you are invited to walk through this garden and its circle of stone.
Area Attractions:
Hickory Hill is located in the heart of the Golden Triangle, a tri-county area that offers a multitude of interesting and unique attractions.
In the area you'll find antique shops, arts and crafts fairs, horseback riding and horse shows,Civil War reenactments, golf, fishing, hunting, and recreational lakes and rivers. The historic downtown shops of Starkville, Columbus, and West Point, offer a very unique shopping experience.
Dining establishments range from fast food casual to fine dining, and serve
everything from hearty southern meals to burgers and fries to the best steaks and
seafood you'll find anywhere.
Several well known writers and musicians have ties to the area including William
Faulkner, Eudora Welty, John Grisham, Howlin' Wolf, Marty Stuart, Elvis Presley, and
others.
Welcome Visitors!
The Mississippi State University Welcome Center is your front door to the university. Whether you are interested in a campus tour or just need a campus map and directions to a specific building, the volunteers at the Welcome Center can help make your visit to MSU a special and memorable one. Located in the Cullis Wade Depot, the Welcome Center features a staff of knowledgeable and helpful volunteers, a small theater for viewing promotional videos, and is located right next door to Barnes & Noble at MSU Bookstore and Starbucks.
The Welcome Center is now offering group tours for civic organizations, church groups, garden clubs, or elementary school classes, just to name a few. The staff of the Welcome Center can also customize a visit to MSU's beautiful campus specifically for your group.
Both the Welcome Center and the Cullis & Gladys Wade Clock Museum are open for visitors Monday through Friday, 8 a.m.–5 p.m., and on every home football game day for two hours preceding kick-off. Please stop by the Welcome Center for general information, campus maps, self-guided campus walking tours, or to view the Cullis & Gladys Wade Clock Museum.
Cullis & Gladys Wade Clock Museum
About the Collection
The Cullis & Gladys Wade Clock Museum, located in the lobby of the Mississippi State University Welcome Center at the Cullis Wade Depot, showcases an extensive collection of mostly American clocks and watches dating as far back as the early 1700s. Purchased from across the United States, this collection of over 400 clocks represents nearly every American manufacturer of clocks, including Ansonia, Waterbury, W.L. Gilbert, Howard, and a large representation of Seth Thomas clocks.
While most of the clocks are original productions, several have been customized by Mr. Wade to feature hand-painted glass designs, hybrid clocks of English cases with American movements, and intricate finial additions to the clocks. The collection also features a number of French clocks and several English and German pieces.
Mr. Wade's passion for clocks, especially of the internal mechanisms, is evident in this wide array of timepieces from all over the world. It is his hope that the exhibit will expose MSU students and visitors to something unique and historical that can't be found anywhere else in Mississippi.
Cullis & Gladys
Renowned antique clock collector Charles Cullis Wade of Newton, graduated from MSU in 1940 with a degree in electrical engineering.
Following graduation, Wade worked in cotton gins, built a saw mill and several tung oil mills, and served in the Navy as a SeaBee. He moved to Bogalusa in 1948 after building the Wade Tung Oil Mill in the Louisiana city. In 1955, Randolph Cassidy became Wade's partner and they formed C & W Construction Company and built the local airport. The two men also had the No. 1 polled hereford farm in the state, and Wade later owned a radio station in Georgia. He remains a tree farmer in Louisiana and Mississippi.
In 1967, Wade married Gladys Valentine of Laurel and they began to collect antique furniture for their home in Bogalusa. In Laurel, Gladys Wade worked at Masonite for 25 years and was also a Mississippi bowling champion. After moving to Bogalusa, she volunteered as a Pink Lady at the Bogalusa Medical Center for 35 years.
While looking for antiques in Winona, the couple bought their first antique china clock, and it is in the museum collection, along with the other 400 clocks that they accumulated during their marriage. Both Wades worked on the clocks and enjoyed sharing many hours together as they found new and different clocks from all over the United States.
The Wades gave generously toward the football stadium expansion project and have funded a charitable remainder trust which has also benefited the Mississippi State University athletic department.
Depot Gallery
The Depot Gallery, located on the second floor of the Mississippi State University Welcome Center is the latest visual art offering on the campus, and features paintings, drawings, sculptures, and other displays of art by students, faculty, and visiting artists. Managed by MSU's Department of Art, exhibits will rotate each semester to provide viewers with a new experience each time they visit.
The Depot Gallery can also be reserved for on-campus receptions and events in conjunction with the clock museum and the adjacent bookstore. To arrange a group viewing of the Depot Gallery, please call 662-325-5203 or email visit@saffairs.msstate.edu.
History of Oktibbeha County and its County Seat, Starkville
National Register of Historic Places, in Oktibbeha County, MS
This information below was quoted from the Starkville Chamber of Commerce web site at
http://www.starkville.org/tourism/history/timeline.html
. Please visit their site to learn more about Starkville and Oktibbeha County to read the Timeline in its entirety.
"The area of Oktibbeha county was originally a part of the lands belonging to the Choctaw Indians. It takes its name from the creek in the northern part of the county which formed part of the boundary between the Choctaw and Chickasaw Nations. Oktibbeha, in the Choctaw language, means "icy water." It has been estimated that in 1820 there were between 1,000 and 1,500 Choctaws living within the county's present day boundaries in some five or six settlements.
Arthur Louis Goodman, Jr. (Junie), and ""Major.""
The first whites to settle permanently in Oktibbeha County were Presbyterian missionaries led by Cyrus Kingsbury. They developed Mayhew Mission in 1820 where Ash Creek flows into the "Tibbee" in the northeastern corner of the county. It contained a school for the Indians, a grist mill, a blacksmith shop, and several other buildings. Three years later, Calvin Cushman established a mission at Hebron, about three miles northwest of present-day Starkville.
The missionaries improved the Indian trails to the east, converting them into wagon roads which made the area more accessible to traffic along the Tombigbee River. The first public thoroughfare in the county was the Robinson Road, built in the early 1820's with both federal and state funds. It connected Nashville, Tennessee, and Jackson, entering Oktibbeha county at Artesia and extending southeastward to the Noxubee River.
The Choctaws surrendered their claims to the area in the Treaty of Dancing Rabbit Creek, which was signed on September 27, 1830. In exchange they were given lands in present-day Oklahoma to which most of them moved. White settlers now began pouring into the region, many bringing slaves with them.
A number of these newcomers were attracted to the Starkville area by two large springs and the favorable lay of the land. A mill south-west of the site provided clapboards which were used for many of the original buildings. From this, the settlement came to be known as Boardtown. Oktibbeha County was formally organized on December 23, 1833, with the first court meeting at Hebron the following year. By 1835, the county seat had been established at Boardtown, which changed its name to Starkville in honor of General John Stark, a hero of the Revolutionary War.
The first courthouse was a one-room log structure with a small rail nearby. The jail had neither doors nor windows. The prisoners were let down into the hold by means of a rope. The Presbyterians established the town's first church in 1835 with the Methodists organizing shortly thereafter. The Baptists began their work in Starkville in 1839. The town got its first bank in 1835. It was called the Starkville Real Estate and Banking Company. A local lawyer, David Ames, began a school in the log court house which had fifty pupils by 1837.
During the pre-Civil War years Oktibbeha County developed into an area of small farms with a number of large plantations. The agricultural base of cotton and livestock was supported by slavery. The 1860 census revealed a population of 5,171 whites, 7,631 slaves, 18 free blacks, and 157 Indians. Starkville served as the trade center for the county, but probably had a population of only 150 - most people, even professionals, preferring to live in the country.
The Civil War was hard on Oktibbeha County as it was on the rest of Mississippi. Large numbers of its white men volunteered for Confederate service and the farms suffered. Grierson's raiders came through the region in the spring of 1863 and looted Starkville. Another Union raid the following year was turned back just south of West Point by General Nathan Bedford Forrest. ....................
The 1870's brought the first railroad into Starkville. After several unsuccessful efforts, a branch line of the Gulf, Mobile & Ohio was built from Artesia in 1874. Ten years later Canton, Aberdeen & Nashville came through Starkville with a line that linked Aberdeen to Durant on the Illinois Central. This opened up a new trade territory for Starkville to the northeast.
On April 25, 1875, fire swept through downtown Starkville destroying 52 buildings. But, a determined people rebuilt downtown, placing the stores further apart and widening Main Street by twenty feet to its present width.
Colonel W.B. Montgomery proved to be one of the area's strongest promoters. During the late 1870's, he imported an exceptional herd of Jersey cattle and thereafter revolutionized the agricultural base from cotton to dairy farming. He was also instrumental in 1878 in securing for Starkville the location of the new state agricultural and mechanical college. Mississippi A&M would develop into Mississippi State University and become the backbone of the local economy.
As the university has expanded, so has Starkville. The late 19th century marked the beginning of an exodus from rural areas. By 1900, Starkville's population stood at 2,689, and it has expanded steadily to its present 18,458. Both the university and the community integrated relatively peacefully in the late 1960's.
Sadye H. Wier (center) with Donald Perry and Mary Spearing, pictured in front of Prairie Opportunity, Inc. Community Cannery in Macon, Mississippi.
Today Oktibbeha County remains primarily agriculturally-based with emphasis on timber, beef cattle, dairy products, hay, and soybeans. However, it has built a sound industrial base with some twenty-five industries employing over 2,300 people. Higher education and the extensive research programs of Mississippi State University remain its primary industry. Student enrollment is approximately 13,867 with grounds, physical plant, and equipment valued at better than $275,000,000.
Part of the rapidly developing Golden Triangle Area, Starkville and Oktibbeha County have enjoyed impressive growth in the past two decades. While proud of their heritage they seek today to provide a diverse economic and cultural base upon which to build confidently for the future. "
MY STURGIS DAYS
BY
JAMES S. (Jim) Allen
previously published in the
TomBigbee Country Magazine, Aberdeen, Miss., Clyde Wilson, Editor
A FAMILY I REMEMBER IN STURGIS, MISSISSIPPI
This family is buried in the Sturgis Cemetery next to the Presbyterian Church in Sturgis, Miss.
James Glenn Bevill, 01-26-1850 - 09-30-1938.
Martha Louise Bevill, 01-04-1837 - 09-13-1923, w/o James.
Sallie Lee Bevill, 02-28-1880 - 06-27-1968, d/o James and Martha.
I found this information on the Oktibbeha County web-site. And seeing their names brought back many memories. I remember Mr. Bevill and his daughter Sallie when we lived with them in Sturgis, Miss. I knew Mr. Bevill as "old man Bevills." I did not know his wife, for she had passed away before the time my family was there. The daughter was "Miss Sallie" an old maid school teacher, who kept house for her father. Neighborhood boys would run by the house, rattle sticks on the picket fence and call-out, "Miss Sallie Bevills did you ever see the devil digging 'tator with a wooden spade." I do not know the source of this ditty or why they pestered Miss Sallie that way. I remember her as a good and caring woman, and rather large to me a child. I could not have been much over three years old at the time. She would bake Ginger Bread Men, a type of cookie in the shape of a fat, rotund little man flavored with ginger. I loved Miss Sallie then, and I appreciate her memory now. Often I heard her ask my Dad, "Mr. Allen, how do you want your eggs cooked?" As she would fix food for all of us. "All of us" included, Dad, Mother, a sister, Annie Kate, a brother, Sammy and me. We had moved to Sturgis from Coffeeville, Miss. after the crash of October 1929, as we were in great physical and financial need. We moved there sometime in 1931 as best as I can figure it. We lived in their house for a period of time and then moved out to "the Homer McMinn place" west of Sturgis on Highway 12, which was a gravel road at that time. Dad made a crop one year on that place as a sharecropper. Life was hard in those days; Dad was already 57 years old and Mother was 44. But the Lord took care of us. We moved to Amory, Miss., before Franklin D. Roosevelt was elected president in 1932. Dad took me to the Frisco Railroad Station in Amory to see Mr. Roosevelt when he passed through on a train campaigning for president. He took office in March 1933, I remember it very well. Dad, a lumberman, worked at Abrams' Mill at that time and we lived in a company house near the mill.
Goodman, Louis Nathan, 1900-.--Photographs.; Clothing and dress--Mississippi--Oktibbeha County--Photographs.
Well, back to the Bevill family at Sturgis. Old man Bevills was a well known teller of tall tales. He held court, so to speak, in Frazier's store which was situated on a prominent corner in Sturgis. On one occasion Mr. Bevill was warming up to a good story about how good a farmer his father had been. He had a good audience of local folks plus one traveling salesman who was calling on Mr. Frazier. The story went something like this, as I recall, "My father was the best farmer in the county in his day and time. Everything he raised was of first quality and quantity. His turnips were the best, the most favored and the biggest in that part of the country. Why, they were so big that it was all we could do to get them out of the ground. I recall that one year they were so big that we started out on a Monday morning with ten teams of the best mules in the county and a dozen men with shovels, hoes, and pick axes. We worked all week long, up to twelve hours every day, digging around just one turnip. They used the mules to haul away the dirt from around that turnip and nearly wore those poor mules out doing that. Then, late on that Friday they hitched those ten teams of mules to the turnip and finally pulled it out of the ground."
African-American cotton pickers on Killarney cut #5.
Old man Bevills slowed down in his story telling, and the traveling salesman stepped forward to the group gathered around the heater in the store. The salesman said, "That reminds me of the time I worked in a kettle factory. We made kettles on special orders only, and were doing that on this occasion that I want to tell you about now. It was a magnificent thing of craftsmanship and size, in fact there was fifty men working on this one project. Well, I was a rivet man and had a special hammer for that purpose. We had worked many days on this kettle and was pretty near finishing the job. Then came quitting time on a Friday evening and when the whistle blew I was way up on the rim of that kettle with my rivet hammer in hand. I recall that I did not want to tote the hammer down the scaffold so I just reached over and dropped it so it would be in the bottom of the kettle ready for me when we came to work on Monday morning. The weekend passed and Monday morning came and I went to the job. But I forgot I had dropped my hammer into the kettle the Friday before at quitting time. So, I climbed up the scaffold to my work place and then remembered my hammer. Much to my chagrin, surprise and dismay at that very moment I heard my hammer hit the bottom of that kettle."
Old man Bevills, wanting to gain control of the tale telling again, cleared his throat and asked, "What would anyone want with a kettle as big as that one." The traveling salesman, not to be outdone, answered, "To cook your Daddy's turnip in." Whereupon, the old man spit a wad of tobacco juice at the sand box around the heater, picked up his walking stick and left Frazier's store.
And, that's the truth.
James S. (Jim) Allen
109 Market Street
Water Valley, Miss. 38965-2124
E-Mail: jimallen@ms.metrocast.net
662-473-1717.
This story is soon to appear in a forthcoming book entitled, "Tracks Along The Pathway" to be completed in the near future. One time publishing rights assigned to TomBigbee Country Magazine, Aberdeen, Miss.
by Jim Allen." © 2007.
Old Sid and Old Sam
Well, (all great stories start with "Well"), I've already told you about Old Man Bevills at Sturgis and his tall tale telling in Fraser's Store, and about the time he was suppose to be sick. We did not live at the Bevill's house very long as the quarters were cramped and you can't afford to wear out your welcome. Anyway, my Dad took on a sharecropper job with Homer McMinn at Sturgis. So, we moved out to one of his places which was located on what is now State Highway 12, southwest of Sturgis when that road was unpaved and covered with gravel. I can't rightly say how far it was from Sturgis, but it was too far for me to walk it by myself. The house sat way back off the road a pretty good ways, so you could see anyone who turned off the main road and headed for the house.
Helen Goodman on house front steps at her Starkville (Miss.) home.
Now, those of the readers who know about mules will quickly sympathize with my Dad (Old Sam) for the mule Mr. McMinn gave him to work the crops with was a blue nose mule. That's right, a blue nose mule; his entire muzzle was a light blue color and the hair around it was snowy white. Why, they are the most stubborn, cantankerous and ill-mannered four-legged beast the Lord ever put on the earth. I suppose Dad had encountered mules of this type before, but it was a sure-fire challenge to his talents, and constrained life style. My Dad was a big man, with biceps like a grown boy's thigh, big hand proven in many days of hard labor in the sawmills of Alabama and Mississippi.
I was just a lad and like others in those days I wanted to be everywhere my Daddy was. I followed him to the fields, walked beside him while he plowed, copied his every move and played like I was the one plowing Old Sid, the blue nose mule. We were poor folks and clothes, as well as other things, were hard to come by so my daily dress mode was a flour sack cut at the bottom to accommodate my little head, and holes cut out for my arms. In other words, I didn't have any britches to wear. That was no problem, we lived out in the country, had very few visitors, the weather was warm, and who could ask for anything more?
Neal Faust and Pat Alexander, majorettes with the University of Mississippi Marching Band strut here for a bit of exercise after flying to Holland aboard a KLM Royal Dutch Airlines Plane. The band competed in the World Music Festival at Kerkade, Holland.
We had the pettiest dog any boy could ever want. Her name was Trixie and she was a solid white Eskimos Spitz with the happiest eyes on a dog anywhere. You could count on it, where ever I was there was Trixie, she was my guard dog, my protector, and it would be hard to say which one loved the other one the most.
On a certain Spring day in 1931 Dad was plowing, and there was barefooted, flour sacked little Jimmy marking step for step up and down the rows with Trixie following along behind for good measure. Old Sid was giving a lots of trouble that morning; just being his usual old hard-to-get-along-with self, I guess. Dad was not a man of violence, bad habits or foul language; his worst "swear" word was "you sap- sucker" and he had used that special swear words already several times that morning. Well, I guess he had all from Old Sid he could take; you know, every man has his breaking point, and he had reached his that morning right there in the field in front of his little boy, and Trixie too. He took the plow lines from around his neck, wrapped them around the plow handles, and saying something like, "Well, you sap sucker enough is enough." Old Sid turned his head back and took a sidelong glance at Old Sam (my Dad) and kinda snickered 'cause he knew he had got the best of the man behind the plow. But to his sad dismay the morning was not over, the day's work was not finished; Old Sam had enough for sure and Old Sid was about to get his comeuppance. Retribution was close by and would be most profound for Old Sam was just about to get Old Sid's attention.
Now, keep in mind, that I was just a boy - a lad of tender years - and had never seen Old Sam take such determined steps in all my life. Being free of the plow lines and making note that Old Sid had given him a look of complete satisfaction he stepped up beside that mule and with his big fist delivered one swift blow just under his big jaw below the very eye he had spied Old Sam with just moments before. I remember it like it was yesterday. Old Sid had the funniest look on his face; if he could've talked he'd said, "what just happened to me??" Then down on the ground he went with one great big thud that shook everything around there. Of course I was stunned myself, I thought Old Sid was dead. His eyes were rolling around in his head, white foam was coming out of his mouth, he was chomping on the bit, and every-once-in-a-while his legs would twitch, first one and then another. There he was flat on the ground on his side and the traces were just dangling about his withers.
Auto wrecked by train, Julia Street.
Not knowing what to do next I started to the house running as hard as I could across the rows and hollering as loud as my little lungs would let, "Mama, Mama, Daddy killed Old Sid; Mama, Mama, Daddy killed Old Sid." Now, my Mama was a typical Irish woman (Hollingsworth was he maiden name), she had red hair, and there were freckles on her face and arms. She was in the kitchen working as usual, and hearing my excited calling from the field she opened the kitchen door. I kept on running, looking back now and then to see the mule still on the ground and Old Sam standing over him. "Mama, Mama, Daddy killed Old Sid." Nothing could hold or contain my excitement; I'd never seen anything like that. Mama, wiping her hands on her apron, took a good, long look at the scene out in the field, shook her head and said, "Well, I guess he did." And with that she closed the screen door and went back to her work.
I waited a moment or two and went back to the field to see about Old Sid. He was still on the ground and his legs were not twitching as much, but the foam was still coming outta his mouth. I guess Old Sam was wondering if he had really killed Sid, so he stood there a while considering the situation. What if he had killed him, would he have to pay Mr. McMinn, and how much would he cost? Where would he get the money? How could he work this situation out? Maybe all these things were going through his thoughts about then. While this was going on Old Sam took his Prince Albert tobacco can from his overall's pocket and proceeded to roll a cigarette. That must have been a good smoke, and while enjoying it he'd jab Old Sid every now and then with his foot to see if he'd move.
American Beauty duster, showing method of use. Right side view.
I can't recall just how long a time passed by, but it was some time later cause Dad had smoked three or four cigarettes by the time that Old Sid began to stir around and move some. He raised his head and looked around to see where Dad was, laid his head back on the ground, then looked around some more. I guess he thought it was safe to do more so he began to struggle a bit as if he was trying to stand up. Well, of course, anyone would know a mule in the harness who had suffered as he had couldn't muster enough strength to get up from his awkward position on the ground. I think Old Sam was really glad to see the mule moving around, maybe he wouldn't have to pay for him after all. And, with that Dad began pulling and tugging on the harness and Sid and finally got him on his feet after much encouragement. He stood there a while, chomping on the bits looking around, getting an idea where Old Sam was. Snorting and shaking himself a bit he seemed satisfied with his state in life. Dad took the plow lines, put them around his neck, slapped Old Sid a time or two on the rump with the plow lines and said, "Get-up" and off they went.
Algodon Plantation weevil picking plat, showing sack and picker at time of first treatment.
You know what? Old Sid plowed all day long with out another stutter or stumble. Why, he was the most perfect mule anyone could have wanted hooked to a plow in the field. For me, just a lad of a boy, it was a real lesson that sometimes in life you had to get the "mule's" attention before you got the job done. And that "mule" might not, necessarily, have four legs. Ain't it wonderful what you can learn just by watching what's going on around you? Just make sure you don't act like Old Sid when you are suppose to get the job done, or there just might be an "Old Sam" somewhere close by.
Well, Daddy (Old Sam) had a good crop that year; corn, peas, cotton, all real good. But that's another story to share with you later on.
One time publishing rights assigned to TomBigbee Country Magazine, Aberdeen, Miss. Soon to appear in "Tracks Along the Pathway, by Jim Allen." © 2007.
"Starkville Daily News," June 16, 1995, page 14
"Starkville resident to mark 100th birthday Tuesday"
Julia Ryan Denson
"A strong Christian faith and love of life have left an indelible impression a Starkville resident who will celebrate her 100th birthday Tuesday.
"Mrs. Julia Elizabeth Denson was born June 20, 1895, to Sidney Lloyd and Amanda Lucinda Hall Ryan in Rose Hill and spent her childhood in Rose Hill with seven brothers and sisters, she being the oldest.
"She graduated from Clarke Memorial College (then a four-year college) in Newton, where she studied Latin and Greek. She then taught school in Hickory in 1916-17.
"Mrs. Denson married her husband Leonidas April 13, 1918, in Auburn, Ala., where he was a student in veterinary medicine. After graduation, Dr. Denson went to work for the Bureau of Animal Industry. During his career he was transferred frequently, and the family moved to many different locations, including Louisville, Ky., Nashville, Tenn., Ackerman, Columbus, Houston, Greenwood, and Kosciusko, before moving to Starkville in 1936.
Albert A. Legett, Mississippi State Forester, 1941-1951
"They had one son, Leon Denson III, who died in August 1990, and three daughters, Mildred Mc Reynolds, Louise Crafton, and Sidney Ruth Morrow, all residents of Starkville. She also befriended and. opened her home to a niece and a homeless girl who after unexplained absences was discovered to he a 'lady of the night.'
"During World War II, their son served in the Army and was wounded in Germany. She had the family organized so that his sisters and father were assigned different days of the week to write V-mail letters to him so that he might get a letter every day. During the war years, she went regularly to a room upstairs in the Barr Building on Main Street, where women gathered to fold bandages for the war effort; one of her daughters remembers going with her and such things as the ladies folding bandages could not wear any nail polish.
Oktibbehams Genealogy Web Site:
http://oktibbehamsgenealogy.org
Sessums Grocery
Sessums, an Oktibbeha County Community
Located in the Eastern Part of the County, Beat 5
Sessums, once a thriving community in the eastern part of Oktibbeha county, is now what we would describe as a sleepy hamlet. It is located on what was the Columbus branch of the Mobile & Ohio Railroad, 7 miles by rail from Starkville, the county seat and nearest banking town. Population in 1900 was 27.
Another view of agricultural machinery exhibit in front yard of court house at Tri-Parish Fair.
Mrs. Carson Castles has accepted my invitation to write a regular column describing her memories of living in the Sessums Community. I know you will enjoy reading them as much as I have. Below is the link to the first of these missives to our readers:
First in Series of Articles Written By
Mrs. Carson Castles, Beat 5, Oktibbeha County, Mississippi
November 14, 2008
GOOD MORNING FROM RED ACRE
by Mrs. Carson (Iris) Castles
14 November 2008
When I finally got around to "doing up" family research, I learned that the 80 acres that I own and live on, in what is known as the Sessums Community, of Oktibbeha County, was known as the Red Acre Farm, and the county seat, being Starkville, Mississippi.
Our community, at one time, had a few stores, a railroad ran through it, old highway 82 used to run right by it, and it had a regular Post Office, where a lot of the local residents went to the little cubby hole in the back of the Sessums Store, to pick up their mail. Before this, though, the P.O. was, at one time, run from the McKnight house behind what was the Sessums Store. All gone now.
African-American workers, possibly doing construction on Noxubee Industrial School, founded in 1898.
The McKnight sisters were nieces of grandma Castles, Mrs. John Palmer "Pamma" Castles, nee, Carolyn "Carrie" Gertrude Davidson. There was a school about a mile north of the Sessums Store called Red Acre, and so this farm was known as Red Acre Farm, from then on and I still carry on the tradition. .
This general area was settled by, mostly, dairy farmers, who milked a few cows, and sold the milk to the Creamery in Starkville, (town), A Mr. Montgomery had bought and had shipped in, a herd of registered Jersey cows, soon after he arrived here to live.
The small town, about four (4) miles to the east, Artesia, was, at one time known as "the hay shipping center of the world", the hay being from the famous Johnson grass. The whole area was known as the dairying center of the south. All beef now, mostly. I believe there are still at least two large dairies still operating in the county, and both, I believe are in the Sessums Community.
A.Y. Scott Residence
This area, to me, was "real country". Although, I was no stranger to "country living" even though I had lived in New Orleans until I joined the Navy W.A.V.E.S. in February 1943. I do have to add that I was born in the real country of north west Florida in 1922, and we made it through the depression years, as best we could. Long story. Not for here.
After my honorable discharge from the Navy W.A.V.E.S. on 9 December 1945, at Millington, TN, I spent a few days at home, enjoying family life once again. It was there that my ex-Navy, ex-Marine brother, Carl, introduced me to this Sailor, who was, with his friend, living not far from where we lived. He was guarding German prisoners across the Mississippi River, in Algiers. And THAT, will begin my next missive.
Second in Series of Articles Written By
Mrs. Carson Castles, Beat 5, Oktibbeha County, Mississippi
GOOD MORNING FROM RED ACRE
by Mrs. Carson (Iris) Castles
18 November 2008
Greetings,
Last week I mentioned that this general area was "real country", I meant, in relation to what I had been used to for a couple of years, by living in New Orleans, for we had "all the conveniences of home" when I first met Carson in December 1945. But, here, in the Sessums community, electricity came through, thanks to TVA, in 1936. The home of Grandpa and Grandma Castles was one of the first in Sessums to get wired for lights, and had what was called, "drop" lights. My in-laws waited and ordered some proper lighting fixtures from the Sears/Roebuck & Company's catalogue. All one had to do, was flip a switch and one had "lights". Most households then, had to have a refrigerator, to replace the old icebox.
Residence of Mr. A. Y. Scott, Rosedale (Miss.).
In New Orleans, we cooked on a gas stove, but when I came here, the meals were cooked on a large home comfort range, fired by wood. One took some (sometimes) corncobs, soaked in kerosene, and some newspapers to start the fire in the old stove. Most times, in the winter, one went back to bed until the kitchen heated up before crawling out again. Coal was burned in the fireplaces for heat in bedrooms, the livings and dining rooms. Wood was used, sometimes in the fireplaces, but I learned that bois-de-arc wood must never be used in any kind of a fire in the house. It burned too, too hot, and sparks would fly everywhere.
A Home Beside The Railroad Tracks
The water was from a pump, here on Castles Hill, out near the dairy barn, and piped to the kitchen. I always told folk that we "had cold water to the kitchen". When it came to bathing, I do not know about the other folk in the household, but, I bathed in the kitchen, in the winter time, in a number three galvanized wash tub. Not easy in that first winter when Frank was due to be born in January.
A. L. Goodman at the back of the Stern & Goodman store in Starkville, Mississippi.
There was a crank telephone on the wall in the living room. It was a party line, and one, could, if one chose, listen in on some neighbor's conversations. But, mostly, everyone was too busy to do that.
This is why I referred to this area as "real country". It was not as "far back in the sticks" as the Real Country, I was born into, in Florida, just before the big depression, of 1929.
Gently be,
Iris
Residence of Mr. A. H. Stone on Dunleith Plantation.
Feeding The Chickens,
Personal papers, correspondence, business records, clippings, photographs, extensive scrapbooks, oral histories, literary manuscripts, reminiscences and other materials concerning Robert Wier (1886-1974) and his wife Sadye Hunter Wier. Robert Wier, who operated and owned the City Barber Shop in Starkville, was the first and only black to have a business on Main Street.
Unidentified man and woman in front of building in Starkville (Miss.).
African-Americans--Mississippi--Photographs.
Unidentified man on stilts, promoting Rex Theatre in Starkville (Miss.)
Sadye Wier's early work with Mississippi State University Extension Service: Men at a possible recognition ceremony.