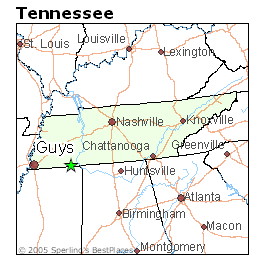 Guys
is a town in McNairy County, Tennessee. The population was 466 at the 2010 census.
Newspaper:
Guys's newspaper is the Independent Appeal, which serves all of McNairy County. It was founded in 1902. It is located at 111 N. 2nd St. in Selmer.
Politics:
In 2004, Paul E. Durr became the town's second mayor. He was the first African American mayor in both Guys and McNairy County.
External Links
:
Guys, TN
Hometown Locator
Source: Internet